Family hold Tractor Road Run in memory of Caroline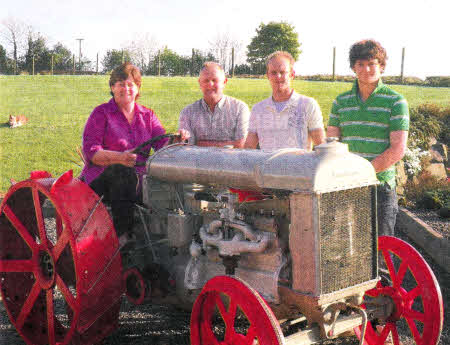 From left to right is Helen Coulter (Caroline's mum), Ronnie (Caroline's Dad), James (Caroline's brother) and William (Caroline's brother).
A HILLSBOROUGH family are inviting local ladies to join them for a Ladies Tractor Road Run next month to raise funds for Epilepsy Action NI in memory of their daughter and sister who passed away in 2009.
Helen Coulter, her husband Ronnie and sons James and William, who live on the Ballyknock Road, have organised the Ladies Tractor Road Run for Friday June 3, which will see ladies on tractors of all makes, ages and sizes driving through Hillsborough at 7.30pm, before enjoying a barbecue and various events to raise funds for the charity.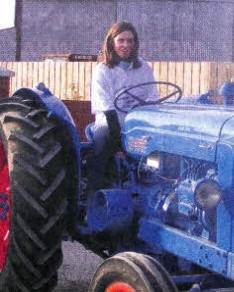 Caroline participating in the Ladies Tractor Road Run which was held in 2008 for Ovarian cancer.
Helen and Ronnie's daughter Caroline Niblock, who was diagnosed with epilepsy at the age of nine months, died in her sleep on Christmas Day 2009.
Caroline and her husband Alan had married just five months before she passed away.
At the time of her unexplained death Caroline had not suffered a seizure in more than a year, however her family have decided to donate funds from the fundraiser, their second such event, to Epilepsy Action.
Helen explained: "We wanted to do something in memory of Caroline and something to raise public awareness of epilepsy.
"Our aim for this event is to raise awareness of Epilepsy, for example to recognize when someone is having a seizure and what first aid procedures to carry out, this is why we chose Epilepsy Action NI.
'At the event we are having a ballot, auction, rodeo bull, bouncy castle, mini digger competition and music, so it should be a lot of fun for everyone, whilst we also raise funds and awareness for the charity."
Any donations or sponsorship for the event is greatly appreciated. You can contact Helen on
07900053805 or e-mail helen@cdrni.com.
All entry forms for the Ladies Tractor Road Run should be returned by Friday May 27 and tickets for the barbecue should be purchased by May 27, as the family need to know the numbers they are catering for.
For further information visit the website, which was kindly designed and set up by Caroline's
cousin Paul McCready at www.hopeoflife.co.uk.
stacey.heaney@ulsterstar.co.uk
Ulster Star
13/05/2011