Local girl ready to face the 'Queen of Mean' on quiz show
Tracy-Ann hopes she is NOT Weakest Link
by STACEY HEANEY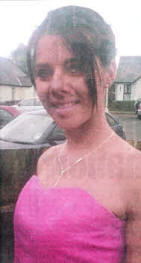 LOCAL girl Tracy-Ann Moore was hoping she would not be the 'Weakest Link' as she prepared to face the 'Queen of Mean' Anne Robinson on the top quiz show this week.
18-year-old Tracy-Ann, who is from Purdysburn Village, was preparing her best comebacks for Anne's famous 'acid tongued' put downs ahead of the recording of the show in Scotland today (Friday).
Tracy-Ann, who doesn't yet know when the show will be screened, said she "couldn't wait" for her appearance on the popular quiz show.
And rather than brushing up on her general knowledge skills, Tracy-Ann has been getting her best responses ready for Quiz host Anne, who she said she was looking forward to facing.
She commented: "I cannot wait. I'm exactly the same as her - in a good way. I've been practising in the mirror."
Tracy-Ann, a Media Industries student at Belfast Metropolitan College's Castlereagh campus, decided to apply for the show three months ago and was delighted when she was invited to audition.
Tracy-Ann added: "I do watch the show, but I hadn't the guts to apply. I just decided to go for it three months ago and a month later I heard back from them and I went for an audition at the BBC studio in Belfast.
"I'm really looking forward to it, I can't wait; I'm very excited." Tracy-Ann flew to Glasgow for the recording yesterday (Thursday) and will compete with eight fellow contestants today.
"I think I'll get to the second round," Tracy-Ann stated. "I'm just going for the fun of it, but I might surprise myself."
Tracy-Ann Moore will be taking on the 'Queen of Mean' Anne Robinson on The Weakest Link on Friday.
stacey.heaney@ulsterstar.co.uk
Ulster Star
18/03/2011