UDR statue arrives in city centre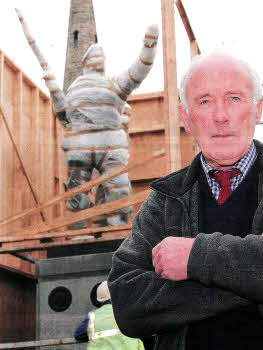 John Sherlock at the new UDR monument in Lisburn- Pic by Stephen Hamilton/Presseye.com
THE statue created in tribute to the Ulster Defence Regiment has been erected in Lisburn this week, prior to its official unveiling later in the month.
The 19ft bronze sculpture showing a male UDR soldier and female 'Greenfinch' on operational duty arrived in the city on Wednesday morning after being brought from Scotland.
The figures - each covered in protective bubble wrap -were loaded onto a flatbed lorry at Powderhall Bronze Foundry in Edinburgh on Tuesday before being brought to Lisburn.
The monument, commissioned by the UDR Memorial Trust, is located in Market Square and sits on a loft plinth incorporating a memorial plaque and crests of the regiment's various battalions.
Passers-by got a sneak preview of the finished piece as the figures were hoisted into place, prior to being covered by screens to allow final preparations.
Overseeing the procedure was sculptor, John Sherlock, who created the monument.
Mr. Sherlock, who also created the Frank Pantridge statue at Lisburn Civic Centre, has been heavily involved in the project since its inception two years ago and after creating the moulds in his own studio, made regular return trips to Scotland to supervise the final bronzing patination process.
Mr. Sherlock said he was over the moon" and "delighted" that the sculpture had finally arrived in Lisburn.
He confirmed there were two days of preparation at the monument site before the arrival of the two figures, which included securing the granite plinth in place.
"It is a major operation as everything has to be dovetailed into everything else" he said.
You are marrying bronze into granite and neither is too forgiving if you make a mistake. It is a very precise task."
Mr. Sherlock also paid tribute to the staff at the Edinburgh foundry for their efforts in the painstaking patination process.
"It was hard, dangerous work as you are working with molten bronze at 1,200 degrees - you don't want to be making mistakes," he said.
The UDR Memorial Trust said it was appropriate the statue be erected in Lisburn because the regiment was originally formed in the city in 1970. Throughout the Troubles, more than 50,000 men and women served in the Regiment. In all 260 serving and former members were killed, and over 400 wounded, many of them off-duty.
The complete cost and maintenance of the memorial will be sourced from UDR charity funds, supplemented by public appeal.
Ulster Star
03/06/2011