Much loved pharmacist passes away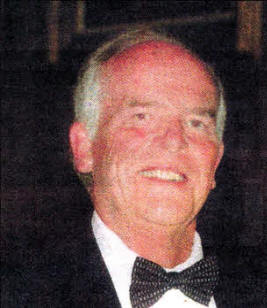 A WELL known Hillsborough businessman has passed away.
Mr. Verus Reaney, who was well known as a chemist in the village for many years, was born in Benburb in December 1935, later moving to live in Moy. He attended Dungannon Royal School and was still an active member of the Old Boys Association. He played rugby at school as a tight head and throughout his life he always enjoyed playing and watching rugby. He particularly enjoyed watching his sons and grandsons keep up this family tradition.
He met his wife Muriel while he was still living in Moy and they were married in 1960 and celebrated their 50th Wedding Anniversary last September.
He had three children - Jeffrey, Philip and Suzanne - and nine grandchildren.
Mr. Reaney qualified at Belfast Technical Institute in 1958 as a Pharmacist and began his pharmacy career in Bangor. After living for short periods in Bangor and Lisburn, an opportunity arose in the then small village of Hillsborough.
Undaunted by the challenges, he purchased the village pharmacy in 1962 and a few years later went on to build the family home in Hillsborough.
He served the Hillsborough community loyally and faithfully through all their illnesses and made their health and wellbeing his life time's work. Through this vital role he showed endless dedication and became a true friend to the whole village. He was very proud that his eldest son, Jeffrey, chose to follow in his footsteps to become a pharmacist and they worked side by side for the last 22 years in the pharmacy Verus established.
In 1990 Verus was Chairman of the Ulster Chemists Association and recently received recognition from the Pharmaceutical Society of Northern Ireland for 50 years service.
He was an active member of the Round Table both in Bangor and Lisburn for many years, where he held every office and post available including chairman. At the ripe old age of 40 he retired from Round Table but continued being an active member of the 41 Club.
Verus was a member of Hillsborough Presbyterian Church and played a vital role in the church life, he sat on various committees, being the church secretary for 23 years and a serving elder for the past 15 years.
Verus always enjoyed playing golf, being a member of both Lisburn and Castlerock Golf Clubs and was a founding member of the Ulster Chemists' Association Golf Society,
He also held the position as Governor of Beechlawn School in Hillsborough for many years.
His family said: "Verus was a kind, gentle, loving man who always cared for and put others before himself. He was a very special husband, father and grandfather, he was a true gentleman."
Ulster Star
24/06/2011