Wallace to bring iPads into the classroom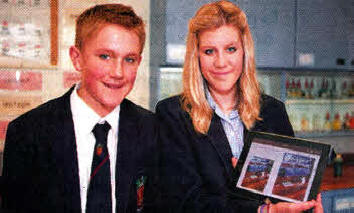 Brother and sister Timothee and Aimee Bassett with an iPad at Wallace High School.
A LISBURN school is to dramatically expand the use of technology in September when it becomes the first in Northern Ireland in which every pupil will be allowed to use an iPad in all their classes.
Wallace High School has started the process by training teachers and offering parents the chance to lease one of the Apple 'tablet' computers for their children to use in school and at home at a cost of £170 a year.
Initially the scheme will be introduced for pupils in Key Stage 3 - Years 8-10 - and Principal Mrs Deborah O'Hare stressed it was not the end of text books and traditional methods of learning, but a recognition more and more students were asking to bring their own portable devices in the classroom.
"It became evident that the use of a single device, used by teachers, understood by parents and students would allow all learners to make progress supported by portable, digital technology" she said.
The school has already held two parents' nights to explain what will happen and to offer support and advice, and the principal said they did not expect every parent would initially want to get involved.
"Whether or not to use the iPad will be up to parents and the young people" she said. "Young people want to learn in different ways and whether students prefer to sit and make notes or use the iPad it will still be the engagement with the teacher and the quality of the teaching which will be crucial.
"Years 8, 9 and 10 will still be sitting paper based exams next year and that will remain
the case until there are changes in GCSE and A level. Indeed that is already happening with subjects like Moving 1mage Arts which is examined on line at both GCSE and A Ievel.
Mrs O'Hare said Wallace was fortunate in having the technical skill in place already with high quality staff.
She said they hoped the move to iPads would 'empower' parents who were uncertain about what laptops or computers would help their children's education to say 'here is one device that does all that is needed for school'. And she stressed that issues like on-line safety were being fully addressed.
"We also believe this is going to help with the issues of employability the principal said. "Rightly, we're being told we must do more to help young people get ready for the world of work and hopefully this will give them an extra edge.
It will also help them in university. If you go into the library at a university now most of the people are working on screen. They're still reading books, but they're reading them on a computer.
Wallace has entered into joint research project with the University of Ulster to study the effects of the move. They expect that to result in learning models which will be available to other schools which decide to follow the same path.
* What do you think. Is this the future of the classroom. Let us know your views by contacing us on news@ulsterstar.co.uk
What is an iPad?

THE iPad is a tablet computer which in size and weight is between a mobile phone and laptop computer.
It is controlled by a multitouch dispIay as well as a virtual onscreen keyboard instead of a physical keyboard.
The iPad uses a wireless local area network ('Wi-Fi') connection to access local area networks and the Internet.
Apple released the first iPad in April 2010, and sold 3 million of the devices in 80 days. During 2010, Apple sold 14.8 million iPads worldwide, representing 75 percent of tablet PC sales at the end of 2010.
By the release of the iPad 2 in March 2011, more than 15 million iPads had been sold — more than all other tablet PCs combined.
Ulster Star
24/06/2011