Wallace Park is alive with the sound of music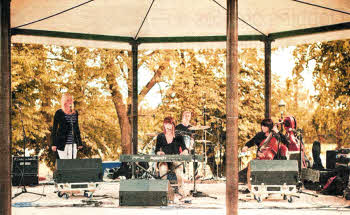 Miller and The Roots Collective
WALLACE Park Band stand came alive with the sound of Local Musicians on Saturday August 13.
The day kicked off with Lisburn-based trio Miller and The Roots Collective, whose original blues/roots style swept across the expanse of the newly refurbished park beckoning visitors to take a closer look.
While the children were entertained and encouraged to play along in a percussion drum circle the inviting atmosphere grew, with the gathering of the people old and young alike to enjoy the music of The Kyle John Suckling Band.
This unique 7 piece band got toes tapping and with the sunshine beaming, the 'People's Park' seemed to come into something of it's own.
The bandstand and surrounding green areas Ient it self brilliantly to this musical extravaganza, as more people gathered to relax on the grass and listen to the headlining act, Silhouette, who's energy and enthusiasm transpired to the audience.
The series of free events, organised by Lisburn City Council, continues in Wallace Park every Saturday and Sunday in August with 'Dancing in the Park' taking place this Saturday August 20 from 2:00pm - 4:00pm.
Local dance groups will be performing on the bandstand, supported by dance workshops so the public can learn a few steps while visiting the park.
So get your feet in gear down to Wallace Park this Saturday for some foot-tapping beats.
The collaboration of Lisburn City Council with local Events Organiser Amanda Kirkpatrick, and Vicky Miller (Proprietor of Molly's Parlour) has proven that Lisburn has a wealth of creative talent which is embarking on a new era.
julieann.spence@ulsterstar.co.uk
Ulster Star
19/08/2011