Wallace pupils celebrate success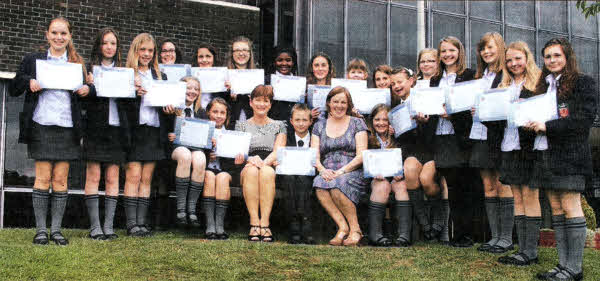 Year 8 pupils from Wallace High School who attended the recent Platinum Awards Ceremony. Also present are Head of Year Norma Cairns and Assistant Head of Year Gillian Carson.
WALLACE High School recently hosted their annual Year 8 Platinum Awards Ceremony, an event attended by Principal Deborah O'Hare, Chairman of the Board of Governors Mr. Graham Sutton and the parents of the 20 award winners.
As ever in Year 8, pupils collected merit signings throughout the year and those who
achieve over 50 merits get their certificates at this special ceremony.
Jilana Currie was also recognised as the first ever pupil to attain her Diamond Award having gained over 75 merit signings throughout her first year at Wallace.
Mrs. Norma Cairns, Head of Year 8 presented the awards and was as ever delighted with
all the pupihs: The Merit System is a very important part of school life and the Year 8 pupils enjoy gaining merits throughout their first year in the school.
"I wish to congratulate all the pupils who received awards and especially Jilana on her impressive tally of over 75 merit signings."
| | |
| --- | --- |
| | |
| Mrs. Norma Cairns and Mrs. Gillian Carson pictured with Wallace Year 8 pupil Jilana Currie who became the first ever pupil to achieve a Diamond Award at the recent Year 8 Awards Ceremony. | Year 8 pupils enjoying the Platinum Awards Ceremony at Wallace High School. |
Ulster Star
29/07/2011