Give your wedding dress to help Save the Children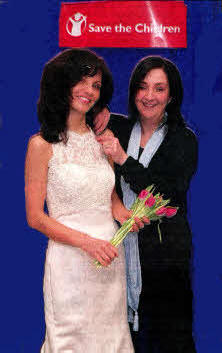 Rositsa Nikolova, who is modelling one of the donated wedding dresses, volunteers at the Save the Children shop at Botanic Avenue, Belfast, along with Mandy Wilson who makes final adjustments to the gown. Both are from Lisburn.
LISBURN ladies are being asked to give their wedding dresses a final fling by donating their gowns to their nearest Save The Children charity shop.
The charity is planning to hold a special bridal sale during Royal Wedding Week, selling everything from dresses and shoes to fabulous hats and head-dresses.
"This year Save The Children Week coincides with the Royal Wedding Week and to mark the occasion we are asking brides from all over the area to donate their wedding dresses to us to help raise money for needy children," said Lisburn mum Mandy Wilson, who volunteers at the Save the Children shop at Botanic Avenue in Belfast.
"Save the Children is currently appealing for funds for the crisis-stricken children of Japan and Libya, as well as for local projects which aim to give children a better start in life," she said.
Mandy continued: "With nearly 10 million children dying worldwide before their fifth birthday, the charity is also running a No Child Born to Die campaign — its child survival programme in developing countries.
"By donating your wedding outfit to us you would be helping the vital work we do overseas, and also helping children in disadvantaged communities here in Northern Ireland."
She added: "We know that it's a huge deal to part with such a precious item of clothing as a wedding dress but we hope that women will be swayed by the thought of seeing their dress create so much happiness — both for a new bride and for the youngsters that Save the Children work with.
"We will be selling the dresses at very affordable prices so there will be big saving for brides-to-be too."
Save the Children is also appealing to bridal shops and designers. to make a donation of dresses, shoes, veils, bags and head-dresses to the charity.
The items will be put on sale at the shop in Botanic Avenue in Save the Children Week from April 27.
Ulster Star
01/04/2011