'Wicked' West End experience for pupils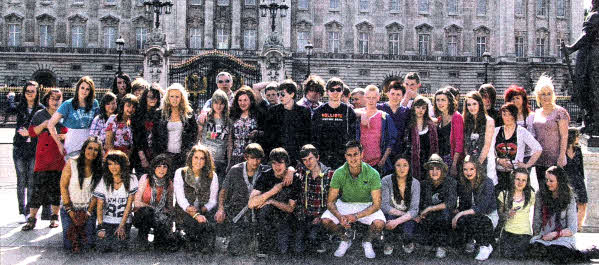 Laurelhill drama pupils outside Buckingham Palace during their recent visit to London
A GROUP of music and drama students from Laurelhill Community College recently set off on an exciting, action packed trip to London.
The main purpose of the visit was to see the spectacular hit musical 'Wicked' on the West End. This award-winning show now forms part of the GCSE Music syllabus so it was invaluable for the pupils to see the songs and music come to life on stage.
The staff and pupils got to meet the stars of the show at the stage door and more excitement was to follow the next day with a Drama workshop taken by some of the West End actors from the show.
The group headed to Covent Garden to the Pineapple Dance Studios for the workshop. This helped the students improve their improvisation skills and character development but the highlight was the arrival of Rachel Tucker, the star of 'Wicked'. Rachel, originally from Belfast, now plays Elphaba in the West End production. In her own words it is her 'dream job'. Rachel appeared on 'I'd Do Anything' on BBC where she reached the semi-final stages for the role of Nancy in Oliver. It was fantastic for the pupils to meet Rachel and they got the chance to ask questions about her career and the famous green make-up.
Rachel inspired the pupils with her passion for performing and told them to follow their ambitions even if it meant going against the crowd.
The trip also included sight seeing, a visit to the 02 'British Music Experience' and another West End show, We Will Rock You'. This musical was written by Ben Elton and the music is of course by the legendary rock band Queen. It was another thoroughly enjoyable show that had everyone on their feet singing along to We Will Rock You' and 'Bohemian Rhapsody'.
The pupils had a brilliant time and learnt so much about performing on the West End and the demands of being a West End star.
Ulster Star
08/07/2011