Well known artist Crozier had roots in Ballinderry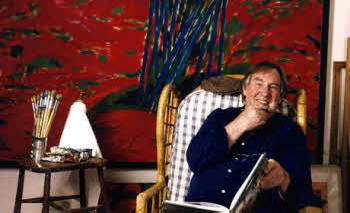 THE well known Scottish born artist William Crozier, whose parents originated from Ballinderry, died on July 12 aged 81.
William, who spent his career working between landscape and abstraction, painted more than 12,000 pictures, each executed in a single session. Born on May 5, 1930 at Yoker, Glasgow, he was the second son of parents originally from Ballinderry. His family moved to Troon, Ayrshire when he was five. William was educated at the Glasgow School of Art between 1949 and 1953. His work often contained references to nature, although in later years he moved towards a more representational language.
He was also encouraged by Sir Alexander Walker, a well known local art collector and the chairman of Marr College, the school he attended.
Influenced by a Picasso-Matisse exhibition and following his graduation he moved to London where he spent time in Paris and Dublin before settling in London permanently. He quickly built a reputation through the early success and notoriety of his exhibitions of assemblages and paintings at the ICA, Drian and the Arthur Tooth galleries. In 1956 he established a studio at Folkestone and worked as a caster in a plastics factory and later as a photographer. In 1959 he won first prize in the Premio Lissone competition, Italy, for a painting called Essex Landscape. Profoundly affected by post-war and existential philosophy, William allied himself and his work consciously with contemporary European art throughout the 1950s and 1960s, rather than with the New York abstractionists, who were more fashionable in the UK at the time.
He then lived in Dublin for a number of years, working as a set painter for the Olympia theatre and Theatre Royal. He had his first one-man exhibition in London in 1957, and achieved early success as a painter. In the 1970s he began to teach at the Winchester School of Art, and from the early 1980s began to spend part of each year in West Cork. While based in London throughout the swinging 60s, Crozier exhibited his works in London, Glasgow, Dublin and all over Europe. In 1984 William, who had adopted Irish citizenship in 1973, purchased a cottage at Kilcoe, West Cork.
His paintings can be seen in most major public and private collections in Britain, and further afield.
In 1995, a solo exhibition, A Passion for Nature, at the Bruton Street Gallery, included an appreciation of his work by AS Byatt.
William's first marriage, to Elspeth McKail, was dissolved. In 1981 he married the art historian Katharine Crouan, who edited a substantial survey of her husband's work, published in 2007. She survives him with a son and daughter of his first marriage.
Ulster Star
22/07/2011