Willing `victims' raise funds for charity at waxing event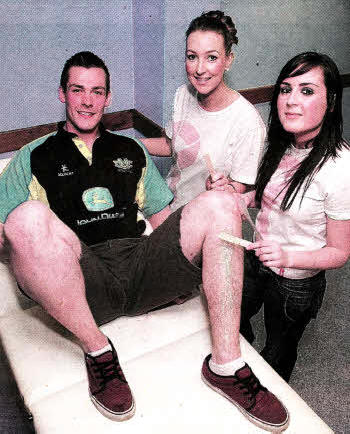 Michael Parker, from Hillhall Young Farmers' Club, was one of the volunteers at a charity 'waxing evening' at Lisburn LeisurePlex, organised by Lynsey Jess and Gillian Warwick who worked their way through the dozens of willing 'victims' to raise money for Cancer Research UK and PIPS Newry- US1311-529cd
THERE were plenty of willing 'victims' at the Lagan Valley LeisurePlex last week when local girls Lynsey Jess and Gillian Warwick held a charity wax for Cancer Research UK and PIPS Newry, a support group for suicide awareness.
The event has raised a magnificent £1,450 and a thrilled Lynsey said: "The event was very successful. I wanted to do something for the charities and I am a beauty therapist so I thought I could put it to good use."
Lynsey and Gillian were delighted with the response to the event, which was a 'men only' waxing marathon.
"There were 25 to 30 guys and their friends and families came down. Men are more apprehensive about waxing and they are definitely not as tough as they think!
"I'd like to thank everyone who was involved, especially Jim Murray from Lagan Valley LeisurePlex, who let us have the room free of charge."
Those taking part raised funds by being sponsored by family and friends for their brave efforts, which involved having legs, chests, and even some underarms, waxed.
"It was a good laugh having the waxing event, I'd definitely do it again but I might change it up a bit and do something else.
"I didn't realise we'd raise as much as we have. We received lots of donations and support but it was really the guys taking part who did the hard work getting the most money and I'd just like to thank them for taking part."
Ulster Star
08/04/2011