Lisburn Scouts join thousands at World Jamboree
by STACEY HEANEY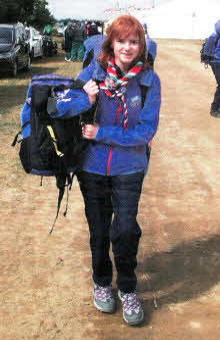 Local Scout Rachel McMichael is in Sweden for the World Scout Jamboree.
LOCAL Scouts have joined thousands of youths from across the globe at the World Scout Jamboree in Sweden.
The Jamboree in Kristianstad, Southern Sweden, offers the experience of a lifetime for young people and its concept, 'Simply Scouting', aims to encourage solidarity between Scouts from all around the globe, promoting respect for other people whilst emphasising equal rights and peace.
Amongst the local scouts is Lisburn girl Rachel McMichael, who said she felt "lucky" to have been selected for the event, which takes place every four years.
Rachel said: "I feel so lucky and privileged to be chosen from County Antrim to attend the largest gathering of the youth of the world. I'm going to learn so much about other cultures and countries in such a short time I could not have done it anywhere else but with through Scouting. I have just arrived at the site and the size is overwhelming."
The Lisburn scouts are amongst over 4,000 scouts and adult volunteers from across the UK at the 22nd World Scout Jamboree which began in Sweden on July 27, where 34,000 scouts and volunteers from nearly every country in the world will be taking part.
World Scout Jamborees take place every four years and rotate around the world, to attend the event and meet young people from nearly every country in the world is a dream come true for all scouts. Participants must be aged 14-18 meaning that this is the first Jamboree for every Scout taking part and their only opportunity to be part of the World Scout Jamboree experience.
The chosen site of the Jamboree, in an immense field surrounded by trees and woodlands, will encourage appreciation of the natural world, another of the 'Simply Scouting' aims, with participants able to get really close to nature whilst living in wild Scandinavian grassland. In fact the site has been deliberately designed to bring together strangers from around the planet who can become friends. With a fantastic programme of activities from fun challenges to environmental projects and from small camp fires to huge arena events participants will get to join with and interact with a truly worldwide family.
Amazing
Bear Grylls Chief Scout said: "While lots of people know that Scouting is all about adventure, they often don't realise that adult volunteers get to do just as much as our young members through their involvement.
"The World Scout Jamboree is a great example of this. Over the course of the Jamboree Scouts will be able to meet people from around the world, take part in amazing adventures and experiences and be challenged to think about global issues in a new light.
"That is why Scouting is one of the greatest youth movements on earth and why I am so proud to be part of it."
stacey.heaney@ulsterstar.co.uk
Ulster Star
05/08/2011