World's Youngest teachers honoured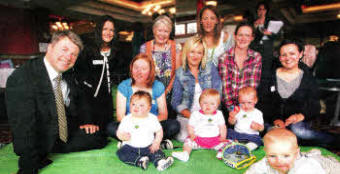 Mums and babies from the Lisburn area with Hugh McCaughey (Chief Executive, South Eastern HSC Trust) and Trudy Brown (Health Development Specialist, South Eastern HSC Trust - back row 2nd right) at the baby celebration event.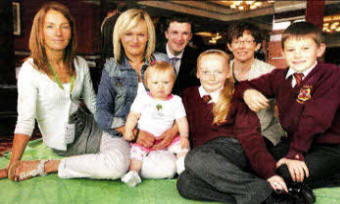 Trudy Brown (Health Development Specialist, South Eastern HSC Trust - pictured left) Donna O'Hara and baby Katie and children from St Luke's Primary School. Also in the picture is Jason White (Assistant Director Health and Wellbeing, South Eastern HSC Trust) and Dr Elizabeth Mitchell (Deputy Chief Medical Officer, DHSSPSNI)
THEY are just marking their first birthdays, but a group of babies have been celebrating their contribution to teaching over the past school year.
Sixteen tots from the South Eastern Health and Social Care Trust area were honoured at the Roots of Empathy Baby Celebration at the Ramada Hotel.
With their parents, these babies have been teaching children in local classrooms important lessons about expressing feelings, respect, inclusion, child development and safety, and the power of a loving bond between parent and child. Roots of Empathy is a classroom program that aims to reduce levels of aggression among school children while raising social/ emotional competence and increasing empathy.
There are currently several schools in the Lisburn area taking part in the initiative.
Jason White, Assistant Director of Health and Wellbeing, explained: "The volunteer mothers and babies visit the classroom nine times over the school year and are at the heart of the Roots of Empathy programme.
"Although these babies are only small, they have had a big impact on the lives of older children and the research tells us that this impact, which leads to more caring and supportive classrooms, will last for years to come. The Trust would like to say thank you to both the babies and their families for their commitment to the Roots of Empathy programme over the last year."
The Baby Celebration was also a chance to recognise the many people who contribute to the success of Roots of Empathy throughout the Trust area. The project was funded by Peace 3, Big Lottery Fund, Public Health Agency, Police Service of Northern Ireland and Queen's University Belfast.
Further information on Roots of Empathy can be found at www.rootsofempathy.org.
julieann.spence@ulsterstar.co.uk
Ulster Star
17/06/2011