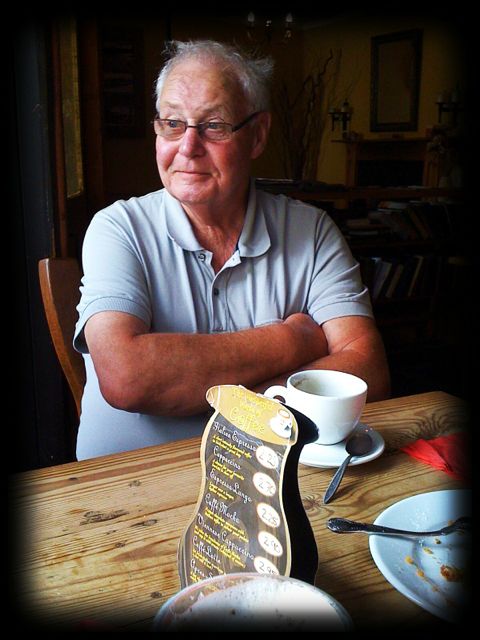 (from funeral service 3rd December 2012, Railway Street Presbyterian Church, Lisburn)
Jim was born and raised in Lisburn, oldest child of Isaac and Doreen Collins, sister to Iris.
Isaac was a well known local businessman and former Elder of Railway Street Presbyterian Church and owner of West End Stores that he opened in 1932 at 144 Longstone Street Lisburn. In 1945 Isaac opened an ice cream parlour beside the general store and converted it into a fish & chip shop in 1945.
Jim was educated at Brownlee Primary School and Methodist College Belfast during the Second World War and recalls, like many of his generation, seeing bombers flying over Lisburn following the railway lines south after their bombing raids on Belfast in April and May 1941 when he was six years old.
He emigrated to Canada in 1953 where he worked for Bell Telephone Co. in Toronto before moving to North West Telephone in Prince George British Columbia in 1956, living in Dawson Creek and Fort St John.
Jim married in 1957 in Prince George and had a son, Brian James Collins, in 1958. He returned to Northern Ireland in 1959 for short spell, where his second son, Darryl William Collins was born. He returned to Prince George to work with North West Telephone again in Port Alberni on Vancouver Island.
He moved to Canadian Marconi and worked on mid-Canada early warning line in Northern Ontario, Quebec and Manitoba. Jim moved frequently with his family to work in Great Whale River and Winisk in Ontario and Schefferville and in Quebec, including a period in Hopedale Labrador and on Bear Island in Hudson Bay.
He was in an early warning station at the time of the Cuban Missile Crisis in 1962 and told family and friends later, from first hand account, just how close he felt the world came to nuclear war between the Americans and the Russians.
Jim returned to Northern Ireland in 1963 for good, to work with his father Isaac in the family business, a general store and post office on Longstone Street Lisburn. Bringing his experiences of the fast-growing Canadian fast food industry, he took over the family business and renamed it to Niagara Hot Food Bar at the corner of Longstone Street and Tonagh Park, where his parents lived.
Jim recalled years later that his father, Isaac, "fed many of the children of Lisburn, often for free when their parents could not afford to put food on the table". The Niagara, which became a Lisburn landmark, was also the setting for many romantic encounters and late-night revelry for the people of Lisburn.
Jim married Elva Patricia Gillian on December 31st 1969 after a romance instigated by his sister Iris who was dating another local man, Colin McCall. Not long after Colin's brother married Elva's sister, Lorraine, and Jim often quipped that if all of them were in a car "there would be two brothers, two sisters and a brother and sister"!
Jim and Elva's had two children, Lisa, born in 1971 and Gail born in 1973.
He provided a very happy and stable family environment and dealt with many trials and tribulations, including the serious illness and recovery, or remission, of Gail.
Many people will recall Jim from his love of golf and in particular his golfing partners. He was one of the founders of a small club-within-a-club at Lisburn Golf Club known as the Biffing Society where the members, who travelled to play in Scotland and all over Ireland, were referred to as "Biffers".
Having successfully expanded the Niagara Cafe and Speedicooks fast food bars to Dunmurry, Moira, Newcastle and Downpatrick, Jim decided to retire in 2000 and sold each of the branches.
During his business life he was a pioneer of computerisation and even built his own bespoke accounting package to manage the shops. This passion for computers stayed with him long in to his retirement. His pride and joy during this time has been the website LISBURN.COM and in particular its Exiles Forum that has brought many people together with an interest and love for Lisburn and Northern Ireland from around the world.
Jim organised and hosted several meetings of overseas Exiles when they returned to the town, including walks on the Lagan towpath and lunch in the Hilden Brewery.
Following a three week holiday to Lanzarote with Elva, Jim took ill and was admitted to Craigavon Area Hospital and then on to the Cancer Clinic at City Hospital Belfast, were sadly he passed away following a very sudden change in his condition despite the best efforts of the clinic's doctors and nurses.