George Ussher re-elected President of RSPBA
Pipe Bands by Mervyn McConnell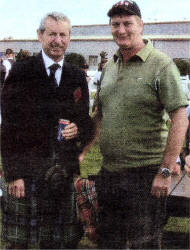 THERE was a meeting of the Northern Ireland branch of the RSPBA last Saturday (March 28) in the Trinity Methodist Church Hall Knockmore Road Lisburn.
Congratulations were extended to George Ussher from Ballinderry on his re-election to the position of President of the Royal Scottish Pipe Band Association for a third time.
George becomes the first man ever to hold the office for three terms. He is also the chairman of the Northern Ireland branch of the RSPBA.
The first outdoor competition of the 2009 season will be the Co. Tyrone Championships which will kick off at the new venue of the Rugby Club Grounds, Dungannon on Saturday 9th May commencing at 12 o'clock.
There has never been an outdoor competition held before in Dungannon, and Mervyn Herron and his team, along with the Dungannon Borough council, have put a lot of hard work into making this event happen.
Special
There will be special arrangements for car parking at this event and a map of the area has been forwarded to all band secretaries. Competing bands will be required to go to Dungannon Park where a coach will pick them up and leave off at the contest venue. It is important that everyone co-operates with the Stewards and Police on the day to ensure a smooth and successful competition.
Other parking areas are the Howard School, Football Club and Linen Centre which are all within walking distance from the Rugby Club Grounds.
Closing dates for entry will be April 18 and all bands should have forms by now, but further information can be obtained from Mervyn Herron on 406 24849, mobile 07702 681189 or email gha9291112@aol.com.
Cullybackey Pipe band will host their 22nd annual solo piping and drumming competition on Saturday April 4.
Cullybackey Pipe Band, like so many other bands, realise the necessity and importance of encouraging young pipers and drummers. Recent years have seen a significant increase in the numbers entering at all juvenile levels.
As initiator of the Young Achievers Awards, which have been found to be extremely popular, both the All Ireland and Ulster solos committee have adopted them.
The piping will feature practise chanter, juvenile, junior, intermediate and senior sections. Drumming will feature drum pad, juvenile, junior, intermediate and senior sections. Contact Mr J. Gribben on 028 25 881901 for further information.
The 2009 Ulster Festival of Solo Piping and Drumming will take place on Saturday April 25 at Monkstown Community School. Entry forms have been sent out to all secretaries but copies can be obtained from Mervyn Herron contest administrator on 4062 4849. The closing date is April 4 and no late entries will be accepted.
The County Down section of the RSPBA will be presenting their annual indoor pipe band championships on Saturday May 2 commencing at 12 noon in Banbridge High School, Primrose Gardens, Banbridge.
This is a great opportunity for bands to get ready for the 2009 season and assist them in trying out their new selection of tunes. Admission is £3 and the closing date for entries is April 11.
The Royal Scottish Pipe Band Association N.I. Branch will be hosting a 'Youth in Action' solo piping and drumming competition in the Green Portrush on Friday August 21 from 3 pm.
Last year a band was formed from the competitors at this event and this year it is hoped to include a bass drum as well to entertain the public at the Bandstand at the Comfort Hotel Portrush from 7pm.
Please note the new telephone number for Mervyn McConnell Press Officer of the N.I.RSPBA. It is 028 92 669582 and the new address is 28 Lady Wallace Walk Lisburn BT 28 3 GY email as before - mervyn_mcconnell@hotmail.com.
Ulster Star
03/04/2009