Field Marshal Montgomery bring home British title Pipe Bands by Mervyn McConnell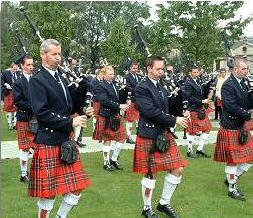 THE British Pipe Band Championships were held last Saturday 27 June in the Rugby Grounds, Banbridge where over 3500 musicians and dancers performed for the honour of winning the title of British champion.
This is the third major championship event hosted by Banbridge Council and attracted a large turnout of spectators and supporters, not only to the championships, but also to the town. Three out of the six grades were won by bands from Northern Ireland with our drum majors taking the top honours in all their three grades.
Field Marshal Montgomery added the British title to the Scottish already won in May with their drum corps taking the drumming prize as well.
Castlerock also did the double in 3B winning overall first place and the best drum corps title.
The third Ulster band to win their grade was the Matt Boyd Memorial from Pomeroy who continued their winning run this season by taking the first place prize in 4A.
Thiepval Memorial from Donegal have now two major championships to their credit when they added the Grade 4B British title to their Scottish one.
The only pipe band to win a perfect score of four first places was Inveraray & District in Grade 2 whose Leading Tip is Stephen McWhirter from Ahoghill.
Grade 3A saw the tightest tussle between the top 5 bands with only three points separating them. The grade was won by Williamwood with 13 points followed by Killen on 14 (Ensemble preference) Aughintober also on 14, Howard Memorial 15 and St.Finbarrs on 16. Raffrey took the final sixth placing.
Brian Wilson took the Senior drum major title with Samantha Gordon the Juvenile and Emma Barr the Junior British title.
This Saturday Lisburn takes centre stage as it hosts the All Ireland Pipe Band Championships at the Leisure Plex. This is the largest competition in Ireland and is held jointly by the Northern Ireland branch of the RSPBA and the Irish Pipe Band Association.
This year there is a massive entry of 68 pipe bands and over 40 drum majors.
A new addition to the championships this year will be free workshops for piping, snare drumming and tenor drumming. The classes are aimed at all abilities and the Branch is especially keen to give young people with no experience a taster of the pipe band world.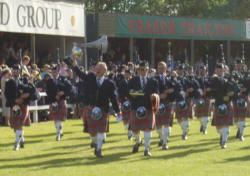 Instruction will start at 12 noon and will run for approximately 45 minutes. There will also be chanter and drum pad competitions following the workshop. These classes will also be held at the Ulster Championships on 8th August. Tutors have been sourced from local Grade 1 bands. Anyone interested can contact the Branch Office by telephoning 92 670445 email info@rspbani.org
The Branch is also helping to promote the annual RSPBA summer school in Portstewart on 18th, 19th and 20th August from 10 o'clock to 3.45pm.
This has proven to be very popular over the past few years and early registration is encouraged. Cost is £30 for under 16 and £40 for adults, Lunch is provided but students are responsible for their own accommodation.
Again contact the Branch Office on 92 670445.
The third major championships will be the European which will take place on Saturday 25th July at Battery Park, Gourock, Inverclyde, with 11 local bands travelling over to compete.
The RSPBA confirmed this week on their website www.rspba.org that BBC Scotland intend to feature live web coverage of the World Pipe band Championships.
The programme is to be presented by Jackie Bird with commentary from Bob Worrall, well known piper and adjudicator.
BBC Scotland can be accessed on www.bbc.co.uk/worlds which will also show performances from all the top bands in Grade 1 as well as other video clips.
Results
Grade 4B. 1st. Thiepval Memorial. 2nd.Lisnamulligan. 3rd.William Kerr Memorial. 4th.Ballyboley. 5th.Tullylagan (also best drums). 6th.Fraserburgh RBL.
Grade 4A. 1st. Matt Boyd Memorial. 2nd.Letterkenny & District. (also best drums) 3rd.Stockbridge. 4th.Major Sinclair memorial. 5th.Gransha. 6th.Quinn memorial.
Grade 3B. 1st. Castlerock (also best drums). 2nd.Banbridge. 3rd.Black Bottle Isle of Islay. 4 th.Troon Brackrock.5th.Manorounningham. 6th.Turriff & District.
Grade 3A. 1st. Williamwood. 2nd.Killen. 3rd.Aughintober (also best drums)/ 4th Howard memorial. 5th. St.Finbarrs. 6th.Raffrey.
Grade 2. lst. Inveraray & District. (also best drums) 2nd.Ravara. 3rd.Phoenix Honda Glasgow Skye. 4th. Dumfries & Galloway. 5th.Seven Towers. 6th.Lomond & Clyde.
Grade 1st. Field Marshal Montgomery (also best drums). 2nd.House of Edgar Shotts & Dykehead. 3rd.St.Laurence O'Toole. 4th.Strathclyde Police. 5th.Scottish Power. 6th.Boghall & Bathgate.
Senior Drum Majors. 1st. Brian Wilson. 2nd.Kathy Megarry-Calvin. 3rd.Ryan Ferry. 4th.Paula Braiden. 5th.Alicia Dickson. 6th.William Jordan.
Juvenile. lst.Samantha Gordon. 2nd.Linzi Hamilton. 3rd.Liam Renton. 4th.Iona Burns. 5th.Stephen Gilchrist. 6th.Calum Brown.
Junior. 1st. Emma Barr. 2nd.Lauren Abraham. 3rd.Lauren Hanna. 4th.Rachel Caldwell. 5th.Matthew McKinney. 6th.Zoe
Ulster Star
03/07/2009