Augharonan promoted to grade 3A
Pipe Bands by Mervyn McConnell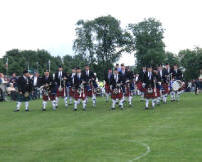 AUGHARONAN Pipe Band from Co. Tyrone, after a very successful season in 2008 which saw the band placed in all major championships, have been promoted to Grade 3A for 2009.
This band has only had 3 pipe majors in their 75 years history. The present one is Jim McElrath (junior), who took over the running of Augharonan from his father Jim McElrath (senior) when he was just 17 years old, making him one of the youngest ever pipe majors. The first man to lead the band was Jim Neely who took over the job of getting the band started along with the help of Alec Hamilton, who was the teacher and well known as a great piper with the famous Omagh True Blues under Pipe Major Willie Millar and Norman McCutcheon. (I also had the privilege along with my father Tommy McConnell in piping with Omagh True Blues - one of the best bands around the countryside at that time).
Pipe Sergeant Jack Gibson succeeded Alec Hamilton and took over the role of teaching the band. Jack also played with Omagh True Blues as well as Gortaclare before joining Augharonan. He was the man, along with Jim McElrath senior, in teaching the now current Pipe Major. Stephen McElhinney is the present Pipe Sergeant and contributes a wealth of knowledge to the band.
Jim (junior) started piping at the age of 10 and received advanced tuition from Pipe Major Derek Magee. Derek took over the reins of Tullintrain Pipe Band at the age of 18 and saw them crowned world champions in Grade 4B.
Stephen Young is the present Drum Sergeant and is, according to his Pipe Major, a modest and brilliant exponent of the percussion side of things. He has great experience having lead the drum corps of Killadeas to Grade 2 level and who has also played with the Grade 1 Eden Pipe Band.
In 1995, after a 2 year fund raising campaign and a lottery grant, the band appeared in their new tartan outfits - Modern MacPherson - complete with new percussion kit. The band is widely known for its appearance and has collected several prizes for Marching & Deportment.
In 2007 a further grant enabled them in the upgrading of some bagpipes, tenor and bass instruments which were needed with the increasing members. One of the great characters of Augharonan was the late Bob Montgomery MBE who cut a distinguished figure when he took over the bass drum of the band. Bob was a great promoter and contributor to the success of the band in the early years.
In 1999 the band recorded one of its best seasons in 4A winning 3 world titles at Glasgow Green and also winning the British and Cowal Championships titles. These victories gave them the Champion of Champions crown in Scotland, and also gained their promotion to 3B.
Players travel from all around Tyrone, Fermanagh, Donegal, Londonderry, Antrim and even London and Glasgow to compete with Augharonan. And after a very successful season in 2008 which saw the band placed in all major competitions, they have now gained promotion to 3A for 2009.
Many of the players have not played at this level before but everyone in the band is relishing the challenge. They have just confirmed that they will be playing a new hornpipe and 2 reels which have never been heard at competitions before.
Grade 3A has to be the grade to watch out for in 2009 with Augharan, Augharonan, Aughintober, Cottown, Cullenfad, Drumlough, Gortaclare, Howard Memorial, Killen, McNeillstown, Raffrey and Upper Crossgare all competing for top honours.
Augharonan have started a piping and drumming school for learners which will take place in Augharonan Orange Hall every Monday from 7 to 8 o'clock. Led by Pipe Major Jim McElrath and Robbie McKane and Mervyn Galbraith, the school is run under the auspices of the Northern Ireland Piping and Drumming School. All learners will be made very welcome.
Ulster Star
09/01/2009