Piping hot locals land All Ireland title in Lisburn
Pipe Bands by Mervyn McConnell

Field Marshall Montgomery who have won the All Ireland title in Lisburn on Saturday. Pic by Rowland White/Presseye
LISBURN City took centre stage last Saturday when it hosted the 64th All Ireland Pipe Band Championships. This is the largest competition in Ireland and is held jointly by the Northern Ireland branch of the Royal Scottish Pipe Band Association and the Irish Pipe Band Association.
Maurice Dickson (Ballydonaghy Pipe Band), Joanne Ussher and Victoria Lappin serving up Lunch for Lisburn Mayor, Councillor Allan Ewart at the All Ireland Pipe Band Championships
Alanie Gratten at the Pipe Band Championships. US2709-528cd
A young piper from Drumlough Pipe Band, Hillsborough. US2709-526cd
Enjoying a chat during the All Ireland Pipe Band Championships at Lisburn Leisureplex. US2709-525cd Pic by CLIFF DONALDSON
Lisburn hosted this competition once before, back in 1967, when it was held in the sports field of Thiepval Barracks, the Army Headquarters for Northern Ireland. This time the spacious Lisburn Leisure Plex was the venue and proved a popular one, not only for bandspeople, but supporters and spectators alike.
There was stiff competition between the two main contenders for the All Ireland title in Grade1. Field Marshal Montgomery had won this grade for a record 17 times, but St. Laurence O'Toole had stopped their run of wins defeating them twice, in 2007 and 2008. But this year victory belonged to Field Marshal once again.
They tied on six points in the MSR but won on ensemble preference and made a clean sweep in the Medley with a perfect score of four points giving them the championships title for the 18th time. St. Laurence O'Toole took the All Ireland drumming and bass section prize, with Cullybackey in 3rd and Ballycoan in fourth place.
Ravara carried off the All Ireland title in Grade 2 along with the best drums, best bass section and Marching & Deportment trophies. Seven Towers were in runner up place and winners of the best pipes. Killeen and Annsborough completed the winner's line-up.
In Grade 3A southern band St. Finbarrs took top place along with the trophy for best pipes, with Aughintober, Killen and Howard Memorial filling the other places.
Another southern band, Manorcunningham, just edged out Castlerock winning the grade 3B on ensemble preference. Castlerock took second place and won best pipes.
Wins in the two other grades of 4A and 4B were shared between the north and south of Ireland. Matt Boyd Memorial and Thiepval Memorial, who are both continuing their very successful season, took the overall top prize in 4A and 4B.
All Ireland Drum Majors were Brian Wilson (Senior) Linzi Hamilton (Juvenile) Rachel Cardwell (Junior) and Emma Barr (novice).
Chieftain of the Day was the new Mayor of Lisburn City, Councillor Allan Ewart,. who said that he was looking forward with anticipation of hearing some of the finest piping in Ireland and viewing the colourful spectacle of the competition.
A date for your diary will be the 2010 All Ireland Pipe band Championships and they will be held in Ballina, County Mayo, on Saturday 3rd July.
There will be a two weeks break for the July holidays but the second half of the season will commence with the European Championships which is the third major championships of the year. It will take place on Saturday 25th July at Battery Park Gourock Inverclyde, with 11 local bands travelling over to compete at the event.
| | |
| --- | --- |
| | |
| Drummers from Ballycoan band getting ready for the All Ireland Pipe Band Championships. US2709-527cd | Drummers from Drumlough Pipe Band, Hillsborough. US2709-537cd |
Results of the 2009 All Ireland Championships.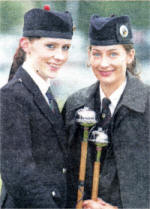 Grade 4B. 1st. Thiepval Memorial. 2nd.Ballyboley. 3rd.Tullylagan. 4th Lisnamulligan (also best drums and best bass).
Grade 4A. 1st. Matt Boyd Memorial. 2nd.Letterkenny & District. (also best bass) 3rd Moneygore 4th.Quinn memorial. Best Drums Cleland Memorial.
Grade 3B. 1st Manorcunningham (also best drums).2nd.Castlerock (also, best pipes). 3rd Banbridge. 4th Colmcille. Grade 3A. 1 st.St. Finbarrs. (also best pipes) 2nd.Aughintober (also best bass and best drums). 3 rd. Killen. 4th.Howard Memorial.
Grade 2. lst. Ravara. (also best bass and best drums) 2nd.Seven Towers. (also best pipes) 3rd. Killeen. 4th. Annsborough.
Grade 1. 1st. Field Marshal Montgomery (also best pipes). 2nd.St.Laurence O'Toole. (also best drums and best bass) 3rd. Cullybackey. 4th.Ballycoan.
Senior Drum Majors. 1st. Brian Wilson. 2nd.Kathy Megarry-Calvin. 3rd.Paula Braiden. 4th Ryan Ferry. 5th.Alicia Dickson.
Juvenile. lst.Linzi Hamilton. 2nd. Samantha Gordon 3rd.Stephen Gilchrist. 4th. Gemma McKinney. 5th. Heather Bell.
Junior. is Rachel Caldwell. 2nd. Lauren Hanna. 3rd.Lauren Muldrew. 4th.Victoria Catterson. 5th.Bethan Martin.
Novice. 1st. Emma Barr. 2nd.Lauren Abraham. 3rd.Zoe McDowell. 4th.Matthew McKinney. 5th.Lauren McKeown.
Ulster Star
10/07/2009