Co Antrim championships return to Carrick
Pipe Bands by Mervyn McConnell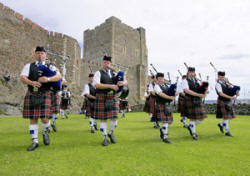 THE 36th annual County Antrim Pipe Band and Drum Major championships took place last Saturday at Woodburn Playing Fields, Carrickfergus. And what a difference a week makes weather wise. At last week's competition in Enniskillen" bands people and supporters were basking in hot sunshine but rain and cold greeted the competitors this week at Carrick.
The Co. Antrim championships made a welcome return after more than 30 years to the town" coinciding with the historic 60th anniversary of the Borough. As well as pipe bands there was also many attractions for all the flower arranging displays" children's entertainer, mobile farm and much more. Winners of the championships in Grade 1 were Ballycoan who made a clean sweep of all the prizes winning best pipes" best drums" best bass" and Marching and Deportment. Seven Towers had a terrific victory in Grade 2 winning best pipes" best drums and best bass and claiming the overall top prize. Killen stamped their name on the winning trophy in Grade 3A with Cottown securing best pipes and Aughintober best bass and best drums. Castlerock again were the victors in 3B and also taking the trophies for best drums and best pipes.
Winning for the second week in succession in 4A was Matt Boyd Memorial from outside Pomroy who also took best pipes. And there seems to be no stopping Thiepval Memorial under Pipe Major Alyson McKnight when they once again claimed the top prize in 4B winning best pipes and the overall first place win.
The 55th Mid-Ulster Pipe Band and Drum Majors Championships will be held in the grounds of Cookstown High School on Saturday June 13 starting at 12noon and Drum Majors Dress at 11.30am.
The Chieftain for the day is local Cookstown man John McFetridge" who is a well known Bass Drummer having played with Tullylagan, Ballybriest •and Field Marshal Montgomery pipe bands.
The Co. Down Championships will take place on Saturday 20th June at Chambers Park" Portadown with a large entry of 55 bands competing for the top places.
The second of this year's five major championships will be the British which will be held in Banbridge on Saturday June 27.
The All Ireland Championships will take place at the Leisureplex Lisburn on July 4 and the closing date for entries is June 13. Entries should be sent to Contest secretary Mervyn Herron" 9 Ballydown Meadows Castlewellan Road" Banbridge BT32 4QX telephone 028 4062 4849.
The fifth annual promotion of the Competing Soloists' Organisation solo piping and solo drumming competitions, an element of the Glenarm Castle Highland Games, will be held on Tuesday July 14 and Wednesday July 15. The rules and entry forms have been distributed to registered soloists., but if any other piper or drummer would like to obtain a copy of these they should contact CSO Secretary Samuel Lawson at 8 Annaghanoon Road Waringstown Craigavon BT66 7RZ telephone 028 3882 0374 in good time before the closing date for entries on Monday June 27.
Ulster Star
12/06/2009