Bands are back as new season gets underway
Pipe Bands by Mervyn McConnell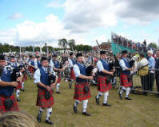 ST. Laurence O'Toole under Pipe Major Terry Tully claimed the first win of the 2009 outdoor season in Grade 1, when the Tyrone Pipe Band Championships -the first of the local outdoor competitions - took place last Saturday at Dungannon Rugby Club.
It was a closely fought contest between the two big bands in Ireland, with Field Marshal Montgomery claiming best pipes, and St. Laurence O'Toole best drums, giving them the overall top placing on ensemble preference.
Ravara won best bass and best drums in Grade 2 but lost out on the first placing to Killeen who also clinched the trophy for best pipes. Aughintober, from outside Dungannon, had a great day's outing on their home ground to win first place in Grade 3A and also best pipes and best drums. Howard Memorial, also from Dungannon, took runner up place.
Bands to also win first place in their grades were Castlerock in 3B; Quinn Memorial in 4A and Thiepval Memorial in 4B.
Chieftain of the Day - Mayor and Councillor Lord Morrow of Clogher Valley - said that the competition was a musical feast for pipe band followers and a colourful spectacular to be enjoyed by spectators and competitors alike.
A fanfare of piping and drumming ended the academic year for the Laurelhill Piping and Drumming School with the presentation of certificates at Laurelhill Community College.
At the event, which marked the 29th year of the School, over 80 certificates were presented to successful students covering both practical piping and drumming as well as theory of music, ranging from grade one to eight.
Mr. Sam Bailie, as Director of the School, welcomed the pupils and their friends to the event
with a special welcome to Mr. Richard Parks, pipe major of Field Marshal Montgomery, and his wife Ruth as guests of honour.
In his remarks the Director said the School, with a campus in Londonderry, Enniskillen and Lisburn was growing in numbers each year with more people now studying at the senior levels of grades 6, 7, 8.
He said the standards in the School were very high and this was reflected in the high rate of success of pupils in external competitions. This was due to the dedication and hard work of the instructors. During the past year the introduction of base and tenor drum classes have been very well received and supported and piping for highland dancing was now part of the syllabus. He praised the Arts Council for their most valuable support and interest and thanked the staff at Laurelhill Community College for their cooperation and help.
In presenting the certificates Richard Parks said the influence and input of the School to the quality of piping and drumming in Laurelhill was immense. He thought that sometimes not enough appreciation was given to the School for its work or to the foresight and drive of its Director Mr. Bailie.
He congratulated everyone who received certificates and said well done to the staff and instructors of the School.
Long service certificates were presented to Messrs Colin Brown, Fred Noade, Brian Rae, Tommy Robinson and Sam Bailie.
The evening ended with an excellent and varied programme of music by pupils of the School.
This Saturday, 16th May, the Scottish Championships will be held in Levengrove Park, Dumbarton with an entry of 144 pipe bands and 36 drum majors. Sixteen of our pipe bands will travel over to compete at this the first of the five majors of 2009.
23rd May is the date for the East Antrim championships which will take place at the new venue of Three Mile Park, Doagh Road, Newtownabbey, and the last of the May events will be the Co. Fermanagh competition on 30th May at the Lakeland Forum Broadmeadow Enniskillen.
The 36th annual RSPBA County Antrim pipe band and drum major championships sponsored by Carrickfergus Borough Council will be held on Saturday 6th June 2009 in Woodburn Playing Fields Carrickfergus commencing at 12 noon.
Entries close on Tuesday 19th May and bands will be notified in writing of the draw number and approximate time of play. Forms should be sent to Mrs Elyse Ussher, 4 Temple Road Upper Ballinderry, Lisburn BT28 2 PD.
As well as the pipe band and drum majors competition there will be a range of activities for all the family.
The 55th annual Mid-Ulster championships will take place on Saturday 13th June in Cookstown High School Sports arena with all grades, as well as drum majors, competing for the top prizes. Entries close on Saturday 23rd May and please note that entries will only be accepted by post. The draw will be made on Wednesday 27th May in the Royal Hotel Cookstown.
Please post entries to: - Mrs Gloria Aicken, 11 Locksley Gardens, Finaghy, Belfast. BT10 OEA.
Results of Dungannon Championships.
Grade 4B. 1st.Thiepval Memorial (also best pipes). 2nd.Lisnamulligan. 3rd.Tullintrain. 4th Bellaghy. Best Bass Upper Crossgare Best Drums and M&D Wm. Kerr Memorial.
Grade 4A. 1st. Quinn Memorial. 2nd.Letterkenny (also best pipes on ensemble) 3rd/Moneygore (also best bass) 4th.Tamlaghy O'Crilly.Best Drums Bready Ulster Scots.
Grade 3B. 1st. Castlerock (also best pipes on ensemble. Best Bass and best drums) 2nd. Blackraven. 3rd.Ballydonaghy.
Grade 3A. 1st. Aughintober (also best pipes and best drums) 2nd.Howard Mem.3rd.McNeillstown. 4th.Killen. Best Bass Raffrey.
Grade 2. 1st. Killeen (also best pipes) 2nd.Ravara (also best bass and best drums) 3rd.Seven Towers.4th Arklow.
Grade 1.1st. St.Laurence O'Toole (also best drums) 2nd.Field Marshal Montgomery (also best pipes and best bass) 3rd.Ballycoan. 4th.Cullybackey.
Novice Drum Majors. 1st.Zoe McDowell. 2nd.Lauren Abraham. 3rd.Lauren McKeown. 4th.Matthew McKinney. 5th.Glen Baxter.
Junior. 1st.Stephen Gilchrist. 2nd.Lauren Hanna. 3rd.Lauren Muldrew. 4th.Rachel Caldwell. 5th.Elizabeth Morrow.
Juvenile. 1st. Samantha Gordon. 2nd.Gemma Mckinney. 3rd.Heather Bell. 4thlinzi Hamilton.
Senior. 1st. Paula Braiden. 2nd.David Brownlee. 3rd.Ryan Ferry. 4th.Brian Wilson. 5th.Alicia Dickson.
Ulster Star
15/05/2009