Ravara Pipe Band honoured at Stormont Pipe Bands by Mervyn McConnell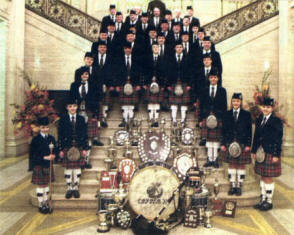 GRADE 2 Ravara Pipe Band was honoured at a reception held at Stormont Estate recently, for the band's achievements last year in both local and major championships.
Ravara has been under the leadership of Pipe Major Sammy Connolly since 1987 when he was just 18 years old. In his first year in charge of the band they took runner up place at the Worlds in Grade 3 as well as Champion of Champions on the home circuit. These victories took the band to Grade 2 when they were rarely out of the prizes.
In 1991 the legendary Bobby Rea took over the drum corps and under his guidance the drummers took home the coveted drumming championship trophy at the World's championships.
The band continued their winning streak and in 1994, possibly the band's best year, they became the Scottish, European and the Worlds champions in Grade 2.
Promoted to the elite Grade 1 in 1995 Ravara continued to push hard at competitions both here and in Scotland, collecting 17 trophies in this grade.
The band had their ups and downs over the next few years going from Grade 1 to Grade 2. In 2000 Ravara had great success winning the Scottish Ulster and All Ireland championships. 2001 was equally successful when they retained the Scottish, All Ireland and Ulster titles plus adding the British and European and the coveted Champion of Champions titles at home and in Scotland. These successes promoted the band once again to the elite Grade 1.
Unfortunately in 2005 due to the drop of personnel in the band Ravara found themselves once again competing in Grade 2.
But the band has continued to fight hard and 2008 found them once more at the top of Grade 2 winning the North West, East Antrim, European, All Ireland, Co. Down, Mid Ulster, Co. Antrim championships as well as winners of the Scottish drum corps champions. Pipe Sergeant of the band is Ian Bryson and Leading Tip is Aaron McCartan.
They practise every Monday and Thursday in Ravara Orange Hall outside Ballygowan at 8.15pm. Learner classes are held on the same nights starting at 7.30pm and everyone interested in the band will be made very welcome.
The Northern Ireland branch of the RSPBA is holding an extraordinary branch meeting on Saturday January 31 in the Methodist Church Hall Knockmore Road Lisburn commencing at 2pm.
The main focus of the meeting will centre on what Grade 4A and B will play at competitions next season. At present they have to play 2/4 marches and are not allowed to play their own selection of tunes.
All band representatives are urged to attend this meeting, especially those who have an interest in Grade 4A and 4B.
This is the month for Burns Nights and one such night will take place on Friday January 23 at 8pm in Kilrea Orange Hall and will feature Convoy Pipe Band.
Kilrea and District Ulster Scots Society will be playing hosts and the evening will include John and Fiona Trotter and the Kilrea Scottish dancers with compere Marti' Moore (Radio North). Admission by ticket only. Please contact Robbie Campbell on 07808 23747 or Derek Rankin on 07835 219574 o Zandra Greer on 07751 168142. Tesco stores are promoting Burns Night by selling products related to Robert Burns in 16 of their stores. They are inviting pipe bands to create some interest in this promotion and to create some visibility for the pipe bands by playing on Saturday January 24 at certain stores.
They will be paying each band taking part £100 plus refreshments at the following stores Antrim, Ballymena, Banbridge, Bangor, Carrickfergus, Coleraine,
Cookstown, Enniskillen, Lisburn, Knocknagoney, Lisnagelvin, Lurgan, Newtownbreda, Newtownabbey, Portadown and Springhill.
Details of manager's names and telephone numbers have been sent to all band secretaries. Bands are urged to try and take part at these stores and therefore help to bring a multi national such as Tesco's on board with the Royal Scottish Pipe Band Association.
Ulster Star
16/01/2009