Major success at the Worlds
Pipe Bands by Mervyn McConnell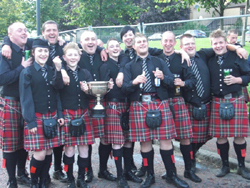 THE scene was set last Saturday at Glasgow Green Scotland for the most anticipated piping event in the world, when 63 Drum Majors, 210 pipe bands, with over 8000 pipers and drummers from 16 nations, competed for the coveted title of world champion 2009.
Despite early rain there was an estimated crowd of 40,000 spectators cheering on their favourite band.
The 2009 world championships also made pipe band history as those in the crowds were joined for the first time by many more thousands via the internet, as the BBC transmitted live feeds of the Grade 1 arena across the world. At 11am, the very start of events, the number of 'hits' already numbered 50,000, making this venture a tremendous success for the Royal Scottish Pipe Band Association.
Killen Pipe Band from Co. Tyrone was the only band from Northern Ireland to lift a world championship title. Under the leadership of Pipe Major Kenny Ferguson and Leading Drummer Trevor McGavigan, the band gave a world class performance to lift the coveted title in Grade 3A. This victory will give them certain promotion to Grade 2 next season.
Other local bands to do well in this grade were the Howard Memorial in third place, followed by McNeillstown in fourth and Aughintober in fifth placing.
In the elite Grade 1 the Simon Fraser University Pipe Band from Canada had their second consecutive world title victory giving them the world championship title for the sixth time, thus equalling Field Marshal Montgomery's record of wins. Under Pipe Major Terry Lee and Leading Drummer J. Reid Maxwell, SFU won first in the Medley and first in the March Strathspey and Reel making them one of only two bands in history to win both the Medley and MSR events at the worlds more than once. The other band being Shotts & Dykehead who also have 15 world titles to their credit.
Scottish, British, and European champions, the Field Marshal Montgomery, claimed runner up place in both the Medley and MSR, with St. Laurence O'Toole from Dublin, breaking into the top three places at the worlds for the first time in their history, taking third prize. Other bands competing in Grade 1 from Northern Ireland were Ballycoan and Cullybackey who both did well to qualify for the finals but didn't make the top six places. One of the biggest upsets of the day was the news that the 78th Fraser Highlanders from Canada and ex world Grade 1 champions, didn't qualify for the final play-off, in spite of winning first place in the drumming in their qualifying section.
Three bands from Scotland completed the prize list in Grade 1 and they were the Strathclyde Police in fourth followed by the House of Edgar Shotts & Dykehead in fifth and Boghall & Bathgate the final sixth place.
In Grade 2 Inveraray & District, who have been unstoppable all season, won the Grade 2 world title as well as the title for best drums. They will now gain promotion to the elite Grade 1. This was the only Scottish band to win a world title in any of the grades.
Inveraray started out only five years ago as a Juvenile band and has become one of the fastest bands to rise to the top in pipe band history. Just a few points behind though was Ravara under Pipe Major Sam Connolly and they won runner up place with Seven Towers just missing out in the prizes and ending in seventh place.
Grade 3B was won by a South African band Benoni MacTalla with Castlerock taking second spot.
Ulster Scottish from the USA won the drumming and also took a third placing in this grade.
Two bands from Co. Donegal were successful in winning world titles and they were Letterkenny & District, under Pipe Major Mervyn Elvin, who also won the drumming in 4A, and Thiepval Memorial under Lady Pipe Major Alyson McKnight, the title in 4B.
In 4A the Quinn Memorial won the runner up trophy with Geoghehan Memorial, Matt Boyd Memorial and Moneygore also winning prizes.
4B had a good number of Northern Ireland bands making the prize list as well with Ballyboley in second place, William Kerr Memorial in third and Tullylagan in fifth place.
The 2009 World champion Drum Majors are Kathy Megarry-Calvin in the senior section, Linzi Hamilton in the Juvenile grade and Lauren Abraham in the junior one.
Ramore Head, Portrush on August 22 will be the Finale of the 2009 championships at home, along with the Champion of Champions awards. This has always been an excellent event when winners at last week's world championships will be given special honour in the arena from all their fellow band members.
The Youth in Action solo piping and drumming contests will take place at Kerr Street Green Portrush on Friday August 21 commencing at 2.00pm.
Then the Portrush Invitational senior solo competition will follow, also on Friday August 21, at 7.30pm, the venue being the Golf Links Hotel Complex Portrush.
The fifth major pipe band championships, and the last competition of the season, will be the Cowal Highland Gathering held on Saturday August 29 in Dunoon Scotland.
RESULTS
Novice - 1st. George Watson College (also best drums). 2nd. North Lanarkshire Schools. 3rd. Johnstone. 4th.inveraray. 5th. Dumbarton. 6th. Kintyre Schools.
Grade 4B - 1 st.Thiepval Memorial. (also best drums) 2nd. Ballyboley. 3rd. Wm. Kerr Memorial. 4th. Achill Mayo. 5th.Tullylagan. 6th. Pasadena Scottish Pipes & Drums (USA)
Grade 4A - 1st. Letterkenny (also best drums). 2nd. Quinn Memorial. 3rd. Geoghegan. 4th. Matt Boyd. 5th.Moneygore. 6th. City of Timaru Highland (New Zealand)
Grade 3B - 1st. Benoni MacTalla (South Africa). 2nd. Castlerock. 3rd. Ulster Scottish USA (also best drums). 4th.Methil. 5th. Manor Cunningham. 6th. Royal Burgh of Stirling.
Grade 3A - 1st. Killen. 2nd. Williamwood. 3rd. Howard. 4th. McNeillstown. 5th. Aughintober. 6th. Cullen. Best drums went to Greater Manchester Fire & Rescue Service.
Grade 2 - 1st. Inveraray (also best drums). 2nd. Ravara. 3rd. Mauchline. 4th. Dumfries & Galloway. 5th. Grampian. Police. 6th. New Westminster Police.
Grade 1 MSR - 1st. Simon Fraser University Canada (plus best drums) 2nd. Field Marshal Montgomery. 3rd. St. Laurence O'Toole. 4th. Strathclyde Police. 5th. House of Edgar Shotts. 6th. Boghall & Bathgate.
Grade 1 Medley - 1st. Simon Fraser University. 2nd. Field Marshal Montgomery. 3rd. St. Laurence O'Toole. 4th.Strathclyde Police. 5th. House of Edgar Shotts. (also best drums) 6th. Boghall & Bathgate.
Grade 1 World Champion - 1st. Simon Fraser University Canada (also best drums). 2nd. Field Marshal Montgomery.(Northern Ireland) 3rd. St. Laurence O'Toole (Eire) 4th. Strathclyde Police. 5th. House of Edgar Shotts. 6th. Boghall & Bathgate.
Junior Drum Majors - 1st. Lauren Abraham. 2nd. Zoe McDowell. 3rd. Bethan Martin. 4th. Emma Barr. 5th. Lauren Hanna. 6th. Lauren Muldrew.
Juvenile - 1st. Linzi Hamilton. 2nd. Samantha Gordon. 3rd. Gemma McKinney. 4th. Andrew Symon. 5th. lona Burns 6th. Heather Bell.
Senior - 1st. Kathy Megarry Calvin. 2nd. Paula Braiden. 3rd. Brian Wilson. 4th. Jason Pagulo. 5th. Rocky Ehrich. 6th.Ryan Ferry.
Ulster Star
21/08/2009