Rain fails to dampen spirits at Glenarm
Pipe Bands by Mervyn McConnell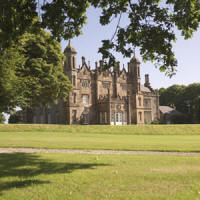 EVEN the odd shower of rain couldn't dampen the spirits of the pipers and drummers competing at the fifth annual promotion of the Competing Soloists' Organisation, which was held on July 14 and 15 on the spacious estate of the Earl of Antrim at Glenarm Castle.
The Adjudicators - Kevin Rodgers for piping, and Mark Wilson for drumming - agreed that for such young soloists, the standard of playing achieved was exceptional in some cases. Indeed, in some of the competitions it was extremely difficult to select an outright winner.
The CSO was also commended for helping the progressive development of soloists of all ages through the promotion of such competitions.
At the conclusion of each day's competitions, The Chieftain of the Games, Lord Antrim, presented the young players with Gold, Silver and Bronze medals.
As part of both days' proceedings, the CSO were pleased to include a concert style section to entertain the audience. Some of the very young players were invited to the stage to perform their individual 'party pieces'. After this, there were performances from piping adjudicator Kevin Rodgers, a piper with St. Laurence O'Toole Pipe band from Dublin, and Drumming adjudicator Mark Wilson, who was joined by his cousin Lee Lawson. These were well received by the appreciate crowd of onlookers.
The CSO would like to record thanks to Lord Antrim and the Management team at the Antrim Estates, guest adjudicators, all solo competitors and their families, and everyone else who helped to make the overall event another success.
The second half of the season will commence with the European Championships which is the third major championships of the year. It will take place on Saturday July 25 at Battery Park Gourock Inverclyde, with 11 Irish bands travelling over to compete at the event.
The North Down Championships, which take place in the Castle Grounds Bangor, will feature 51 bands, with Grade 4B commencing at 12 o'clock. This venue is always popular and, weather permitting, should attract a large crowd of pipe band supporters and holiday makers.
The Ulster Championships will be held on August 8 in Donard Park Newcastle. Contest Secretary Mervyn Herron is delighted with the response of entries with seven Grade 1 bands competing for the Ulster title. Grade 4 is a Map Based contest and will start at 11am.
It has come to the attention of the Northern Ireland Branch Officials that there are events billed as 'Piping Championships' taking place which have not been sanctioned by the RSPBA.
The Branch would like to draw attention to the following RSPBA rules - 3:4. A Branch Promoter or contest committee proposing to promote a contest must first make application to the Association for a contract/permit giving full details of prize money and local rules, if any. 3:15. No member of the Association or the approved adjudicators panel may take part in any such contest not authorised by the Association except with written permission of the National Council. 3:12.
Any band, registered member or official taking part directly or indirectly or assisting in any manner whatsoever a promoter of a contest without permission of the National Council, shall be guilty of an infringement and liable to such penalties as the National Council may decide. For further information or clarification please contact Lindsey Ellis Project Manager on 92670445.
Results
Under 12 piping - 1st. John O'Donnell. 2nd. Hugh O'Donnell. 3rd. Jake Walker.
Over 15-under 18 piping - 1st. Grahame Harris. 2nd. Jamie Walker, 3rd. Ross Hume.
Grade 3 Piping - 1st. Jamie Walker. 2nd. Grahame Harris. 3rd. Alastair Murray.
Grade 2 Piping - 1st. Jonathan Lamberton. 2nd. Jamie Walker. 3rd. Alan MacPherson.
Open Jig Piping - 1st. Jamie Walker. 2nd. Jonathan Lamberton. 3rd. Sco tt Wallace.
Under 12 Drumming - 1st. Eoin Rogers. Over 12-under 15 Drumming - 1st. Mark Leishman. 2nd. Eoin Rogers.
Open H&J - 1st. Mark Leishman.
Over 15 and under 18 - 1st. Mark Leishman.
Grade 3 Drumming - 1st. Aaron McLean.
Grade 2 Drumming -1 st.Aaron McLean.
Open H&J Drumming - 1st.Aaron McLean.
Ulster Star
24/07/2009