FM lead the way as bands warm up for second major
Pipe Bands by Mervyn McConnell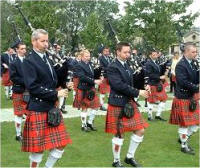 THE Craigavon and Armagh Piping Festival took place last Saturday 20th June at Chambers Park, Portadown with a large entry of 55 bands competing for the top places.
This was a promotion by the Co. Down section who selected Craigavon Borough Council, a neighbouring council, to host this championship to enable the British Championships to take place in their home base of Banbridge this week-end.
Lisburn based Field Marshal Montgomery Pipe band had a comfortable win in Grade 1 by taking first place in the MSR and the Med to secure overall first place. It was also a good result for Leading Tip Adrian Hoy and Cullybackey when they won the top trophy for the best drum corps in the grade and third place. Ballycoan were in runner up spot.
Seven Towers were the victors in Grade 2 with Ravara taking the drumming prize.
Entering for the first time in Grade 3A was the Police Service of Northern Ireland under Pipe Major Colin McClelland, and they were delighted with a fourth placing. The grade was won by Killen with Aughintober taking best drums.
Manorcunningham won first place and the best bass and best drum section in 3B with Matt Boyd Memorial taking first place in 4A and Thiepval memorial, back on top again, in 4B.
Winning Drum Majors were Lauren Abraham (Novice) Lauren Hanna (Junior) Samantha Gordon (Juvenile) and Paula Braiden (Senior)
The second of this year's five major championships will be the British which will be held in Banbridge on Saturday 27th June.
117 pipe bands have entered for these championships with 42 from Northern Ireland.
The All Ireland Pipe Band Championships will take place at the Leisure Plex Lisburn on 4th July.
This is the largest competition in Ireland and is held jointly by the Northern Ireland branch of the RSPBA and the Irish Pipe Band Association.
This year there is a massive entry of 68 pipe bands and over 40 drum majors, and the event will kick off at 11am with the Grade 1 section starting at approx 3.30pm.
The third major championships will be the European which will take place on Saturday 25th July at Battery Park Gourock Inverclyde, with 11 local bands travelling over to compete at this event.
The Northern Ireland Branch of the RSPBA will be running workshops for pipers, side drummers and tenor drummers at both the All Ireland in Lisburn on 4th July and the Ulster Championships in Newcastle on 8th August.
The classes are aimed at all abilities and the Branch is especially keen to give young people with no experience a taster of the pipe band world.
Instruction will start at 12 noon both days and will run for approximately 45mts. There will also be chanter and drum pad competitions following the workshop. Anyone interested can contact the Branch Office by telephoning 02892 670445 email info@rspbani.org
The Quinn Memorial Pipe band has some places still available for this year's World pipe band championships in Glasgow on 15th August.
More information on times and prices can be obtained by contacting Pipe Major Harry Bloomfield on telephone 028 29541393.
It is with deep sadness that we record the death of Charlie Duncan who was well known as a bass drummer with the Cottown Pipe band and in later years as a Stewart for the Northern Ireland branch.
John Griffiths, Pipe Major of the Cottown Pipe Band, played a lament at the funeral. Sincere sympathy is extended to his family and friends.
RESULTS
Grade 4B. 1st. Thiepval Memorial. 2nd.Tullylagan. 3rd.Ballyboley. 4th. Tullintrain. Best Drums - Lisnamulligan. Best Bass- Ballybriest. M&D- Kilrea.
Grade 4A. 1st. Matt Boyd Memorial. 2nd.Marlacoo. 3rd.Gransha. 4th.Moneygore. Best Bass and Best Drums -Quinn Memorial. M&D Letterkenny.
Grade 3 B. 1 st. Manorcunningham (also best bass and best drums). 2nd.Banbridge. (also M&D) 3rd.Ballydonaghy
Grade 3A. 1st. Killen. 2nd. Howard memorial. 3rd.Aughintober. (best bass and best drums). 4th. PSNI (also M&D).
Grade 2. 1st. Seven Towers. (best bass) 2nd.Ravara. (best drums and M&D) 3rd.Killeen. 4th. Annsborough
Grade 1. 1st. E.M. Montgomery (MSR and Med. and best bass). 2 nd.Ballycoan. (M&D) 3rd.Cullybackey. (best drums) Novice Drum Majors. 1st. Lauren Abraham. 2nd.Zoe McDowell. 3 rd. Lauren McKeown. 4th.Emma Barr. 5th. Glen Baxter.
Junior. 1st. Lauren Hanna. 2nd. Rachel Caldwell. 3rd. Victoria Catterson. 4th. Bethan Martin. 5th.Elizabeth Morrow.
Juvenile. 1st. Samantha Gordon. 2nd.Linzi Hamilton. 3rd. Steven Gilchrist. 4 th.Gemma McKinney. 5thCraig Clydesdale.
Senior. 1st. Paula Braiden. 2nd.Kathy Megarry Calvin. 3rd. Andrea Mc Keown. 4th. Ryan Ferry. 5th.Brian Wilson.
Ulster Star
26/06/2009