Final curtain comes down on pipe season band season
Pipe Bands by Mervyn McConnell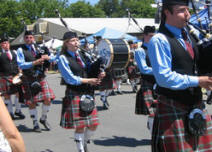 THE final curtain came down last Saturday on this year's local pipe band scene as bands competed at the North West Pipe Band Championships in Portrush.
On an overcast weather day crowds exceeded all expectations as supporters and holiday makers rubbed elbows to get the best advantage point to hear the bands play.
The long awaited parade of the Town gave everyone the opportunity to greet and applaud the bands and drum majors as they marched by with their winning trophies.
Field Marshal Montgomery claimed the North West title in Grade 1 and Ravara in Grade 2 with both bands winning best pipes and best drums. Ballycoan in Grade 1 and Ravara in Grade 2 also won the coveted champion of champions awards for the local pipe band season.
It was a very good day for the Howard memorial in Grade 3A as they defeated the recent world champions -Killen- into runner up place. Howard also took home the trophies for Champion of Champions in 3A for both the band and the drum corps section. Aughintober claimed 3rd place with visiting band Dollar Academy from Scotland winning best pipes and the final 4th placing.
Castlerock were the winners in 3B also taking the champion of champions award both for the band and for best drums. It was sweet success for Matt Boyd Memorial when with three first places in piping and ensemble they lifted the top trophy in 4A plus ensuring them the champion of champions award. World Champions Letterkenny were in second and winners of the best drums but Quinn Memorial who were in third place won the overall trophy for champion of champions in drumming in this grade.
And finally the unstoppable world champions Thiepval Memorial took the top honours in 4B and the Champion of Champions cup for the best band. What a season this band has had.
Wm. Kerr Memorial were second with the best drum and bass section, and Lisnamulligan won the overall champion of champions trophy for best drums corps.
Drum Majors Lauren Abraham was first in the Novice, Rachel Caldwell first in the Junior, Stephen Gilchrist first in the Juvenile and Ryan Ferry first in the Senior.
The Cowal Highland Games-the last of this year's five major championships and the final competition of the season- will take place this Saturday in Dunoon Scotland.
Only eight bands from Northern Ireland will travel over to compete at this competition which will also decide the winner of the 2009 RSPBA Champion of Champions event. They are in Grade 1- Field Marshal Montgomery, Cullybackey and Ballycoan ;Grade 2 Seven Towers; Grade 3B Castlerock; Grade 4A Quinn Memorial, Matt Boyd and Dr. Wright Memorial.
Thiepval Memorial from Co. Donegal will compete in 4B and St. Laurence O'Toole from Dublin in Grade 1
Results
Grade 1 . 1st . F.M. Montgomery (plus best pipes, best drums and best bass) 2nd.Cullybackey. 3rd.Ballycoan.
Grade 2. 1st. Ravara (plus best pipes and best drums). 2nd.Seven Towers. (plus best bass)
Grade 3A. 1st. Howard Memorial (plus best drums and best bass). 2nd.Killen. 3rd.Aughintober. 4th.Dollar Academy (plus best pipes).
Grade 3B. 1st. Castlerock (plus best drums and shared best pipes) . 2nd.Manorcunningham (plus shared best pipes) 3rd. Colmcille (plus .best bass) 4th Banbridge.
Grade 4A. 1st. Matt Boyd (plus best pipes). 2nd.Letterkenny (plus best drums).3rd.Quinn Memorial. 4th.Moneygore (plus best bass).
Grade 4A. 1st. Thiepval Memorial (plus best pipes). 2nd.Wm.Kerr memorial (plus best drums and best bass). 3rd.Lisnamulligan. 4th.Ballybriest.
Novice Drum Majors. 1st. Lauren Abraham. 2nd.Emma Barr. 3rd.Zoe McDowell. 4th.Matthew McKinney. 5th. Lauren McKeown.
Junior. 1st. Rachel Caldwell. 2nd.Lauren Hanna. 3rd.Bethan Martin. 4th.Lauren Muldrew.5th Victoria Catterson.
Juvenile. 1st. Stephen Gilchrist. 2nd.Samantha Gilchrist. 3rd.Heather Bell. 4th. Jemma McKinney.
Senior. 1st. Ryan Ferry. 2nd. Kathy Megarry Calvin. 3rd. Paula Braiden. 4th.Brian Wilson. 5th.Alicia Dickson.
Champion of Champions Northern Ireland.
Grade 1. Ballycoan (Band plus drums).
Grade 2. Ravara (Band plus drums).
Grade 3A. Howard memorial (Band plus drums).
Grade 3B. Castlerock (Band plus drums)
Grade 4A. Matt Boyd Memorial (Band) Quinn Memorial (Drums)
Grade 4B. Thiepval (Band). Lisnamulligan (Drums)
Novice. Lauren Abraham. Junior. Lauren Hanna. Juvenile. Samantha Gordon. Senior. Paula Braiden.
Ulster Star
28/08/2009