Barry shows the Power to take the world solo drumming title
Pipe Bands by Mervyn McConnell
THE Andante sponsored world solo drumming championships took place last week at the Glasgow Caledonia University, Scotland, where over 200 drummers competed to claim the coveted world title. For the third year running Barry Wilson from Scottish Power was the winner, with five out of the eight adjudicators placing him first over both events. Barry won the MSR event by five clear points from another previous champion Steven McWhirter. The Hornpipe and Jig was won by Gordon Brown. The Juvenile One section was won by James MacNeil from the Malcolm Memorial Pipe Band from Canada. This was only James's second attempt at the world solos having came third the previous year.
The Juvenile section two was won by Grant Cassidy from the House of Edgar Shotts and Dykehead. This was his first attempt in this section after having won the juvenile one title the previous three years.
The Juvenile section three was won once again by Craig Brown from Boghall & Bathgate giving him his fifth world title in six years. 16 times world solo drumming champion Jim Kilpatrick, Leading Tip of Shotts & Dykehead Pipe band decided to withdraw from the championships. His father-in-law Jim Cruickshank died suddenly last week. He was an honorary life member of the RSPBA and was a well know figure in pipe band circles.
Northern Ireland didn't have much success at the championships. Those claiming prizes were Dean Smyth from Cullybackey who came third in juvenile section two and Blake McVeigh from Gransha taking fifth place. William Glenholmes from Cullybackey secured sixth place in the final MSR section.
Steven McWhirter originally from Ahoghill and now Leading Tip with newly promoted Grade 1 Inveraray Pipe Band was runner up in the finals of the MSR and in third place in the Finals of the Hornpipe and Jig.
The National Council of the RSPBA have announced their gradings for the 2010 season.
The grading changes are as follows:
Novice Juvenile to Juvenile -George Watsons College, Kintyre Schools, Johnstone, North Lanarkshire Schools.
Grade 4B to 4A - Thiepval Memorial, Ballyboley, Perth and District, Denny and Dunipace, William Kerr Memorial, Tullylagan, Lisnamulligan.
Grade 4A to 3B - Letterkenny & District, Quinn Memorial, Matt Boyd Memorial, Geoghegan, Stockbridge.
Grade 3B to 3A - Black Bottle Isle of Islay, Methil & District, Benoni MacTalla, Ulster Scottish, Castlerock.
Grade 3A to 2 - Williamwood, Killen, Howard Memorial, Aughintober, Linlithgow and District
Grade 2 to 1 - Inveraray & District.
There were no bands proposed for downgrading.
The next meeting of the Northern Ireland branch will take place on October 31 at 2.00pm in preparation for the Annual General Meeting on Saturday November 14 at 1 lam. All meetings will take place in Trinity Methodist Hall Lisburn.
The 16th William Kenndy Piping Festival will be held from November 12 to 15 in Armagh city. One of the Festival's highlights will be a world piping concert on November 14 at 4 pm. This will feature Andrew Carlisle from the Field Marshal Montgomery Pipe Band along with special guests Roncos do Diabo (Portugal), Edelmiro Fernandez (Galicia) and Jerry O'Sullivan (USA).
There is also a full programme of sessions, workshops, lectures and exhibitions. More information can be obtained on www.wkpf.org.
Results
Juvenile Section One - 1st. James MacNeil. 2nd. Robert Dempster. 3rd. Mark Leishman. 4th. Jamie Clark. 5th. Liam Webster.
Juvenile Section Two - 1st. Grant Cassidy. 2nd. Steven Shedden. 3rd. Dean Smyth (Cullybackey) 4th. Cameron Ward. 5th. Blake McVeigh (Gransha)
Juvenile Section Three - 1st. Craig Brown. 2nd. John Stewart. 3rd. Neil Bruce. 4th. Euan MacAllister. 5th. John Benson.
Adult MSR - 1st. Barry Wilson. 2nd. Steven McWhirter. 3rd. Blair Brown. 4th. Gordon J. Brown. 5th. Stephen Creighton (St.Laurence O'Toole) 6th. William Hlenholmes (Cullybackey)
Adult Hornpipe & Jig - 1st. Gordon J. Brown. 2nd. Barry Wilson. 3rd. Steven McWhirter. 4th. Stephen Creighton (St.Laurence O'Toole). 5th. J.Reid Maxwell. 6th. Blair Brown.
The end of an era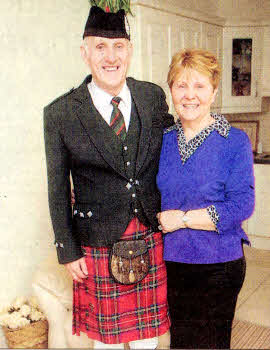 Mervyn and Marty McConnell. US4409-104A0
THIS week marks the end of an era - it's the last Pipe Bands column by Mervyn McConnell.
Mervyn has decided to step down after 18 years of keeping band followers -and many others - up to date with all the latest news and views.
The editor of the Star David Fletcher said Mervyn was going to be missed.
"Mervyn has been an editor's dream" he said. "You knew that every week his column would be here on time - well written informative and entertaining.
"I know a few people who haven't been to a contest for a few years yet avidly read Mervyn's column to keep up to date an involved.
It has been a joy to work with Mervyn and Marty and all their friends in the pipe band world, and in the Star, wish them man happy and healthy years in retirement."
Ulster Star
30/10/2009