Full bands contest goes from strength to strength
Pipe Bands by Mervyn McConnell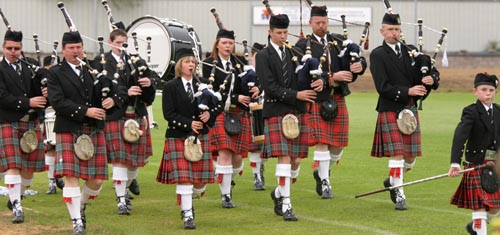 ANOTHER very successful day's event was held last Saturday when the annual Indoor Full bands competition took place in Banbridge High School.
It was a very successful day for Upper Crossgare with Pipe Major Trevor Connor who led his band to victory in Grade .2. The band had quality sound and playing which should be very encouraging for them at the start of this new season.
Grade 3A was won by North Belfast with Quinn Memorial taking the honours in 3B.
Marlacoo were the winners in 4A and Cleland Memorial were the victors of both piping and drumming in 4B and was the only band to win the double.
Banbridge Junior band, in competing for the first time, did well and took home a fourth place prize. This band is under the direction of lady Pipe Major Andrea Boyd, and is a credit to her and their tutors Will Lyons and Thomas Carey.
This competition just goes from strength to strength and must be due to the untiring efforts of the Co. Down section and its Secretary Mervyn Herron who must have been delighted with both the number of entries and the support of the
spectators. It was standing room only for many as the hall was packed to capacity. Scottish adjudicator Dixie Ingram remarked that the High School was, in his opinion, the best venue for sound and the standard of 'playing was remarkably high for the first full bands event of the new year.
The Fivemiletown Mini bands contest, which was due to take place on Saturday 3 May in The Valley Hotel under the auspices of Gortaclare Pipe band, has had to be cancelled due to lack of entries.
This competition has been running successful for 20 years but sadly this style of contest seems to have run its course
The first ever appearance in Northern Ireland of the Grade 1 Strathclyde Police Pipe Band from Glasgow will take place on Saturday 3 May at 7.30pm in Maghera High School, organised by the Mid Ulster Drumming School.
This band were the winners of the world pipe band championships an amazing 12 times under Pipe Major Ian McLellan. The band are now under the direction of Pipe Major James Wark and Leading Tip Eric Ward, originally from Banbridge, who together have led the band to much competitive success finishing fourth in last year's Grade 1 Champion of Champions table.
Also on the guest list will be Inverness Gold Medallist Stuart Liddell who is well known to Ulster piping audiences.
The following Saturday (10 May) the first outdoor full bands championships of the 2003 season will take place at Malahide Castle.
There will be a Grade 1 competition with Field Marshal Montgomery Pipe band defending the title they won last season. Challenging them will be Dublin band St. Laurence O'Toole; and from the North Ravara and newly promoted Ballycoan.
May 17 is the first of the majors this year when the Scottish Championships take place in Dumbarton. There is a large entry from both North and South of Ireland going over to compete at this event.
The final competition in May is the Co. Fermanagh championships taking place in Celtic Park, Enniskillen on Saturday 31 May
Results. Indoors Banbridge.
Grade 2. 1, Upper Crossgare; 2, Killeen; 3, Cullybackey (also best drums); 4, Howard Memorial.
Grade 3A. 1, North Belfast; 2, Tullintrain (also best drums); 3, Woodgrange; 4, Syerla.
Grade 3B. 1, Quinn Memorial; 2, Black Raven; 3, Altnaveigh; 4, Cottown. Best Drums Hollymount.
Grade 4A. 1, Marlacoo; 2, Aughintober; 3, Seven Towers; 4, Colmcille. Gransha Best Drums.
Grade 4B. 1, Cleland Memorial (also best drums); 2, McNeillstown; 3, Letterkenny & District; 4, Banbridge Junior.
Ulster Star
02/05/2003