`Best ever' County Down contest.
Pipe Bands by Mervyn McConnell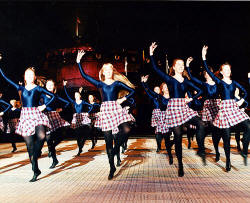 THE best ever Co. Down Championships'. That was the verdict given by the public at last Saturday's pipe band contest held in Banbridge.
Supported by Banbridge District Council and organised by the Co. Down section of The Royal Scottish Pipe Band Association, their 'Fun in the Park' programme, held in blazing sunshine in the splendid setting of Banbridge Academy, proved a winner with bandspeople and spectators alike.
Excitement
The Edinburgh Tattoo Highland Ceilidh Dancers, and the Falconry and Craft Displays, added to the excitement of the day for all, especially the children. But the serious business was, as usual, the pipe band and drum majors contest.
The good weather certainly brought out the best in Pipe Major Alfie Rea's Grade 1 Ballycoan band who won first in the MSR, First in Medley selection and first in drumming giving them the overall top placing and the Tommy Geddis Memorial trophy.
British Grade 2 winners - Bleary & District- added another trophy to their growing collection by winning first place in Grade 2.
Challenging them all the way was a vastly improved Cullybackey Pipe band who took runners up place and also the trophy for best drums.
Killadeas, the Grade 3A Co. Antrim and Mid Ulster champions, were in splendid form and added the Co. Down title to their first place wins this season. First place in drumming went to Syerla drum corps.
There were new winners in Grade 3B. Killen from outside Castlederg, under Pipe Major Andy Lindsay, and who won promotion just this season, were delighted with their first place win. Altnaveigh won the best drums trophy in this grade.
Outstanding
An outstanding Co. Armagh band Marlacoo swept to victory in Grade 4A. This is developing into an interesting tussle between them and the Seven Towers who took runner up place.
The Queen Elizabeth Pipe band had a brilliant day when they won both piping and drumming in Grade 4B.They compete under Lady Pipe Major Iris Gilmour.
The 58th All Ireland Pipe band and Drum Majors Championships will take place on Saturday 5 July in Donard Park, Newcastle Co. Down.
Due to the large entry of 67 bands and 56 drum majors, this competition will now commence at 11.45am.
In addition to the visiting hands from the South of Ireland, the City of Orillia & District Pipe Band from Canada and the West Midlands Police are also competing at this event.
A Highland Dance competition will also be held and all entries should be sent to Mervyn Herron.
He can be contacted by telephone on 406 24849. Entries will be accepted up to the day of the competition for this event.
As well as Scottish Traditional Highland Games there will be an exhibition of many birds from the Northern Ireland School of Falconry.
The Northern Ireland Piping and Drumming School will be giving pipers and drummers the opportunity to attain their Grade 1 practical certificate on the day.
An extra event has also been organised to celebrate this year's All Ireland championships.
Altnaveigh House, in association with the RSPBA, will present `Piping Hot' which is a celebration of Cultural Diversity.
It will take place in the Annesley Hall Newcastle on Friday 4 July at 8pm, and tickets are available from Branch Secretary Lorraine McVeigh on 97521657.
Results
Grade 1. 1st Ballycoan (also best drums). 2nd Ravara. 3rd Bleary & District (also best bass). 4th Ballinderry Bridge.
Grade 2. 1st Bleary & District (also best bass). 2nd Cullybackey (also best drums). 3rd Ballinderry Bridge. 4th Killeen.
Grade 3A. 1st Killadeas. 2nd Tullintrain (also best bass). 3rd Syerla (also best drums). 4th Finvov. Grade 3B. 1st Killen. 2nd Cottown. 3rd Black Raven (also best bass). 4th Fintan Lawlor. Best Drums Altnaveigh.
Grade 4A. 1st Marlacoo. 2nd Seven Towers. 3rd Mountfield. 4th Annsborough (also best drums and best bass)
Grade 4B. 1st Queen Elizabeth (also best drums). 2nd Manorcunningham. 3rd Antrim. 4th Thomas Davis (also best bass)
Novice Juvenile Drum Majors. 1st Samantha Gordon. 2nd Linzi Hamilton. 3rd Jonathan McKee. 4th Craig Clydesdale. 5th Natasha Cherry.
Junior. 1st Joanne Wilson. 2nd Elizabeth Sloan. 3rd Ryan Ferry. 4th Laura Lawson. 5th Laura McComb. Juvenile. 1st Paul Spence. 2nd Ian Scott. 3rd Danielle Sharvin. 4th Donna Gillespie. 5th Alicia Dickson.
Senior. 1st Ian Young. 2nd Cathy Megarry. 3rd Paula Braiden. 4th Gloria Patterson. 5th Brian Wilson.
Ulster Star
04/07/2003