All Ireland solos attracts top players from across the country.
Pipe Bands by Mervyn McConnell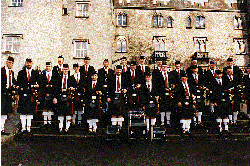 THE All Ireland championships took place last Saturday in Dublin and attracted many solo players from Scotland and England as well as both north and south of Ireland.
The All-Ireland senior piping title was won by Andrew Hall, ex Pipe Major of Monkstown Mossley Pipe Band, who now is the Pipe Major of the West Midlands Police in England.
Stephen Creighton, who is the Leading Tip with Grade 1st. Laurence O'Toole from Dublin, won the senior Drumming title.
Other All Ireland titles won by Ulster pipers and drummers were: - Jonathan Greenlees -Piobaireachd, C. McCallion -juvenile piping under 16. years, G. McLees -juvenile drumming under 14 years, J. Hoy juvenile drumming under 16 years, and Gavin Noade -Intermediate Piping.
This year's Piper of the Year event will take place on Saturday 11 October in the Adair Arms Hotel Ballymena where 16 of the top solo players in Ireland will compete for the coveted title.
The adjudicators will be Pipe Major Jimmy Banks, who will adjudicate the Piobaireachd, and along with Pipe Major Brian Donaldson will judge the March Strathspey and Reel.
The 10th William Kennedy Festival will have a high powered opening on Sunday 16 November when Irish bands - Altan and Lunasa - will join top solo piper Robert Watt for the opening performances.
This year's anniversary Festival will be launched on Friday 14 November at the Market Place Theatre Armagh and will run through until 23 November at various venues.
The Kennedy Festival has been founded on the concept of the shared cultural inheritance of Ireland and Scotland with piping undoubtedly one of the great areas of common interest.
To mark the 10th anniversary the Festival is presenting, for the first time, a concert devoted solely to the highland pipes with both bands and solo performers.
This concert takes place on Wednesday 19 November in the Market Place Theatre and will feature the Vale of Atholl pipe band from Perthshire in Scotland and the local pipe band Killeen from Armagh, with solo performances from Robert Watt and Ross Ainslie.
For further information on tickets please contact the Armagh Pipers Club, 14 Victoria Street, Armagh BT61 9DT or telephone 37511249.
The Belvoir Drum Majors classes will commence on Saturday 4 October from 2 to 4 pm in Belvoir Parish Church Hall, and continue on the 11th, 18th, and 25th October, 1st, 8th 15th 22nd and 29th November, under Class Instructor Alicia Dickson.
The Elementary Certificate in piping and drumming will also be taught within the class as well as Highland Dancing, and all classes are free. Further information can be had from Ronnie Davidson 02890 298837.
Results of All Ireland Solo Championships
| | |
| --- | --- |
| Juvenile Piping (under14) | 1st D. Stone. 2nd J. Redmond. 3rd J. Lamberton. |
| Juvenile Piping (under 16). | 1st C. McCallion. 2nd J. McWhirter. 3rd P. Lewis. |
| Junior Piping. . | 1st G. Rudolph. 2nd R: McFarland. 3rd L. McNicholl |
| Intermediate Piping. | 1st A. Tully. 2nd F. Smyth. 3rd S. Littis. |
| Senior Piping. | 1st A. Hall. 2nd J. Greenlees. 3rd A. Gilmore. |
| Piobaireachd. | 1st J. Greenlees. 2nd S. MacLeod. 3rd M. Egan. |
| Juvenile drumming under 14. | 1st G. McLees. 2nd L. Reynolds. 3rd S. Paynter. |
| Juvenile drumming under 16. | 1st J. Hoy. 2nd C. McNicholl. 3rd J. Irvine. |
| Junior drumming. | 1st C. McSheery. 2nd M. Fetridge. 3rd C. Johnston. |
| Intermediate drumming. | 1st G. Noade. 2nd T. Smyth. 3rd S. McWhirter. |
| Senior. Drumming. | 1st. S. Creighton. 2nd A. McCartan. 3rd S. Wilson. |
Ulster Star
04/10/2003