The sun shines on a pipe band spectacular
Pipe Bands by Mervyn McConnell
THEY called it a pipe band spectacular and that it certainly was (writes MERVYN McCONNELL).

The sunniest day the year, crowds of eager supporters and some of the best piping and drumming all season, made the European Championships held in Lisburn City last Saturday a truly magnificent day's outing for all the family.
Everyone was in carefree mood and full of praise for the organisation of Lisburn City Council and the Royal Scottish Pipe Band Association.
The expected number of 10,000 visitors swelled to nearer 20,000 and the carnival atmosphere in the blazing sunshine made the day perfect.
Bands from all over Scotland England, South and North of Ireland totalling just over 130, made these championships the biggest ever piping event to be staged in Ulster. The whole day was recorded by BBC television and hosted by National Council member and Contest Secretary Mervyn Herron, and will be shown in the Autumn.
Mervyn, who had worked tirelessly all week, and especially on Saturday, said it was a day he would always remember and wouldn't have missed for anything.

In Grade 1 Field Marshal Montgomery was led into the arena by Pipe Major Richard Parkes. Richard was making his first appearance at the head of the band since his recent illness, and he received rapturous applause with everyone delighted to see him back at the helm of Ireland's most successful, and one of the world's top, bands.
And Field Marshal turned out a perfect score of two firsts in piping, first in drumming and first in ensemble to lift the 2004 European Pipe band Championship title.
This is now two major titles the band has won, having lifted the Scottish crown in Dumbarton in May this year.
Leading drummer Keith Orr and his drum corps also deserve praise, winning their second major drumming championship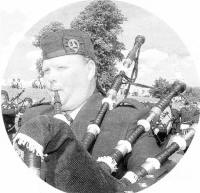 title.
And what a terrific result for Southern band St. Laurence O'Toole with Pipe Major Terry Tully, when they took runner up place in Grade 1, defeating last year's world champions House of Edgar Shotts & Dykehead. This band has been steadily climbing the success ladder this season and this result will set them tip well for the worlds on the 14th August, having gained enough points now to qualify for the final play off.
Five out of the six grades were won by bands fro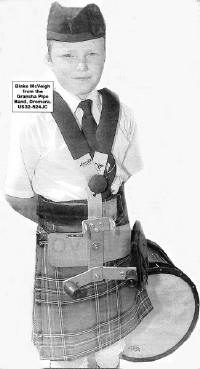 m Ulster. Grade 2 went to Ballinderry Bridge with Cullybackey winning best drums; 3A was won by Finvoy; 3B by Seven Towers with a perfect score of four firsts; and Annsborough took the title in 4A.
Other local bands to do well last Saturday were Upper Crossgare with Pipe Major Trevor Connor, who took sixth place in Grade 2, and Banbridge drum corps who won the drumming championship title in Grade 3A under Leading Tip Keith Gourley. Local girl starred with Elizabeth Sloan taking first place in the junior drum major championships with Emma Chambers in runner up place.
Kathy Megarry from Upper Crossgare won first in the senior drum majors.
The North West Pipe Band Championships take place in Portrush on Friday 6th August and Saturday 7th August with the main pipe band championships starting at 12 o'clock on the Saturday with 60 bands and drum majors competing
for the championship titles.
Then on Saturday 14th August at Glasgow Green some of the finest pipe bands from across the world will take part in the ultimate `Battle of the Bands' - the World Pipe Band Championships.
Last year at least 40,000 spectators thronged to Glasgow Green for the competition.
Ian Embelton, Chief Executive of the RSPBA said "We are expecting in the region of 250 bands worldwide and as we head towards our 75th anniversary in 2005 the event will be developed to an even bigger spectacle."
Twenty seven bands will compete in the centrepiece Grade 1 with eight travelling from overseas to complete.
New for 2004, this year's championships will include the European Highland Games Heavy events championships. The world's strongest men compete at traditional highland games events such as the stone putt, tossing the caber, Scottish hammer and the interesting one of the 'De'il tak the Hindmost' kilted race!
Other attractions include highland dancing, craft fairs special displays and many children's activities.
Full results
Grade 1. 1st Field Marshal Montgomery (also best drums) 2nd St. Laurence O'Toole. 3rd Shotts. 4th Strathclyde Police. 5th Clan Gregor. 6th Scottish Power.
Grade 2. 1st Ballinderry Bridge. 2nd Drambuie Kirkiston. 3rd Cullybackey (also best drums). 4th Killadeas. 5th Royal Scots Dragoon. 6th Upper Crossgare.
Grade 3A. 1st Finvoy. 2nd Strathclyde Fire Brigade. 3rd Quinn Memorial. 4th Bready. 5th Black Raven. 6th North Belfast. Banbridge Best drums.
Grade 3B. 1st Seven Towers (also best drums). 2nd Marlacoo. 3rd Fintan Lalor. 4th St.Patricks Bandon. 5th Ayr Pipe band Society. 6th Arbroath.
Grade 4A. 1st Annsborough. 2nd Linlithgow & Dist. 3rd Stow. 4th Queen Elizabeth. 5th Gortaclare. 6th Corpus Christi. Best Drums Wallacestone & District.
Grade 4B. 1st Kirkcudbright (also best drums). 2nd McNeillstown. 3rd Antrim. 4th Lanark & District. 5th Letterkenny. 6th Cullybackey.
Novice juvenile. 1st George Watson's College (also drums). 2nd Inverclyde juvenile. 3rd Kintyre Schools. 4th Monkstown Mossley. 5th 1st Troon Boys Brigade. 6th Milngavie.
Juvenile Drum Majors. 1st Ryan Ferry. 2nd Donna Gillespie. 3rd Barry Purcell. 4thlan Scott. 5th L. McComb.
Junior. 1st Elizabeth Sloan. 2nd Emma Chambers. 3rd Linzi Hamilton. 4th Simon Kerr. 5th Samantha Gordon.
Senior. 1st Kathy Megarry. 2nd David Brownlee. 3rd Brian Wilson. 4th Paula Braiden. 5th Ian Young.
Ulster Star
06/08/2004