Pipe Band Contest Takes Centre Stage
Pipe Bands by Mervyn McConnell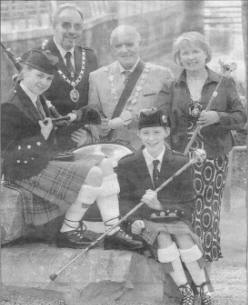 Thousands flock to Lisburn for European Championships
THE Field Marshall Montgomery Pipe Band based at Hillhall Road will no doubt be cheered on at this weekends 2004 European Pipe Band Championships in Lisburn.
Winners of the Scottish Championship in May, and runner up in the recent British and World Championships, they will be competing for some of the top titles.
Two other local pipe bands Ballydonaghy Pipe Band in Crumlin and Drumlough in Hillsborough will also be competing.
It is the first time Lisburn has hosted the event with Belgium hosting it last year and Belfast in 2002. Over 130 bands of pipers, drummers and drum majors from across Europe are expected to attend the event held at Lagan Valley Leisureplex.
Organised by Lisburn City Council in conjunction with the Royal Scottish Pipe Band Association it is expected to draw up to 10,000 visitors to the city.
There will be stiff competition for the title of `European Champions' between House of Edgar Shorts, Dykehead Caledonia Pipe Band and many local bands.
The Field Marshall Montgomery Pipe Band, who were undefeated champions for two years, has won other numerous titles in recent years.
Pipe Major Richard Parks has managed to maintain the bands performance and hopes to repeat recent successes.
There will also be a strong local presence in the Drum Major's arena with Elizabeth Sloan from Stoneyford, Kirsty Harron from Lisburn and Emma Chambers from Glenavy with all three girls capable of lifting top honours in their Grade.
Elizabeth comes fresh from winning the North Down Championship in Bangor last week and Kirsty took the runner up place in last year's European Championship in Belgium.
Entrance to the event will be free with entertainment for all the family from Scottish Dancing, a fun fair, trade stalls and food and beverage outlets.
Mayor of Lisburn, Councillor Cecil Calvert, will be Honorary Chieftain of the Championship, and will take a salute from all 131 pipe bands as they parade in the Championship Finale at 5.00pm. Speaking at the Championship launch, he said the council were honoured at hosting the unique event.
"Lisburn City Council is delighted to be hosting such a unique event in partnership with the Royal Scottish Pipe Band Association," he said.
"It will certainly be a musical masterpiece and the sights and sounds of the Pipe Bands and Drum Majors are not to be missed.
"This event will attract world class pipe bands but it is great to have local bands competing and I would extend a warm welcome to all to come and enjoy this spectacle and support Elizabeth, Kirsty, Emma and all our local bands.
The European Championships runs from 10.00am to 6.00pm on Saturday in the grounds of the Lagan Valley LeisurePlex. A shuttle bus service is provided between Lagan Valley Island, Lagan Valley LeisurePlex and Lisburn City Centre running every 30 minutes from 10.00am.
For more information contact Lisburn Tourist Information Office on 9266 0038.
Ulster Star
16/07/2004