Stalwart Harry scoops top piping award
Pipe Bands by Mervyn McConnell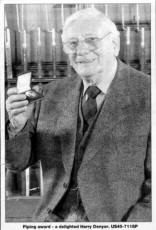 LISBURN piping stalwart Harry Denyer has been awarded the highly prestigious Balvenie Medal at this year's Glenfiddich Piping Championship.
Harry has been involved with piping for over 40 years and has played a major role in developing this music form in Northern Ireland, particularly in relation to encouraging Irish pipers to play Piobaireachd (the classical music of the pipes).
As a result of his work, Northern Ireland is becoming a centre for new talent with solo players such as Alistair Dunn and Robert Watt now winning major accolades.
The Glenfiddich Piping Championship, held annually at Blair Castle, Blair Atholl, Scotland celebrated its 31st Anniversary this year. It is the world's most prestigious solo piping event and attracts the ten best pipers from across the globe.
Event
This year's event featured players from Canada and America as well as seven of Scotland's finest pipers. The overall Championship winner was William McCallum, taking second place in the competition was
Angus MacColl and Roderick MacLeod came third.
The Balvenie medal is awarded annually at The Glenfiddich Piping Championship to an 'unsung hero' from the piping world, who through their work behind the scenes has been perpetuating the solo piping tradition. Harry received his medal from Sandy Gordon, great grandson of the founder of The Glenfiddich Distillery
Harry explained "It is a surprise and an honour to be recognised in this way and to add my name to the impressive list of previous winners."
Ulster Star
05/11/2004