Drumlough Pipe Band on top of the world
Pipe Bands by Mervyn McConnell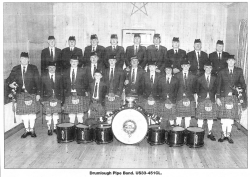 MEMBERS of Drumlough Pipe Band were singing a happy tune last weekend when they were crowned world champions in Glasgow.
Playing their favourite tunes 'Campbell of GlenLyon', 'Loughruan' and 'Old Boy' they beat off stiff competition from 48 other bands to win the top title in Grade 4B of the contest.
And it was a double celebration for Pipe Major Lexie Burrows and his two sons who are all members of the Drumlough Pipe Band, but who weren't the only members of their family who returned home with medals from Glasgow.
Another son Ian is with the Sergeant Walker Pipe Band who came home with a third in Section 4A.
Drumlough's success follows on from their recent win in Moira at the City of Lisburn Championships and another success at Bangor.
It has all been a far cry from a competition two years ago when they competed in Banbridge and were placed a disappointing last.
But the 20 members quickly turned it round to such an extent they are now the best in the world. They have already had success in other major competitions since including the European Championship in Lisburn and the All Ireland in Newcastle.
Lexie Burrows explained why he believed the band triumphed.
"It's all about team work," he said. "All the members of the team play and practice very hard and they are all dedicated and good strong players."
Wanted
He particularly praised drummer William O'Brien, whose wife incidentally is the only female member in the band. The band's membership had diminished a few years ago and William helped Lexie to regroup and turn it into the success it is today.
"We are still over the moon with the win and hope to celebrate it with a dinner later in the year" said Lexie.
The band is made up of ten pipers, six side and bass drummers and four tenors.
Lexie's son Nigel, a piper in the band, praised his father's role.
"If it were not for him it would not be the band that it is today," said Nigel.
"He has helped us stay strong and stay together. We thought we had a good chance of winning, but you never really believe it will happen. Now we're are all delighted."
Next step for the Drumlough band, who meet every Wednesday night at the local orange hall, is the Ulster Championship in Portrush and they are also well placed to take the Champions of Champions title.
As winners in the Worlds, the band receive medals and £500. And next sea-son they will be promoted to Grade 4A.
Downshire Councillor Allan Ewart was one of many to congratulate Drumlough on their 'fantastic' win.
"This a great achievement for the band following their victory the week before in Moira at the City of Lisburn Championships" Mr Ewart said.
"The dedication of the members of the band in their weekly practice has paid off and they are to be commended for this great win.
"I look forward in following their fortunes at Portrush next week when hopefully they can repeat the 'Worlds' performance."

Eight world titles come home to Northern Ireland
EIGHT world titles were won by bands and drum majors from Ulster last Saturday at the 75th anniversary of the World Pipe Band Championships held in Glasgow Green Scotland.
Drumlough led all the way in Grade 4B and were successful in adding the world title to their silver-ware won this season. The band competes under the leadership of Pipe Major Nigel Burrows and Leading Tip William O'Brien.
It was full credit to this band who have only been competing for a short time and this success means promotion to Grade 4A next season.
The drum corps of Ravara Pipe Band with Leading Tip Aaron McCartan gave a great performance to win 1st place in drumming with the band taking overall 4th place in Grade 2.
Seven Towers from Ballymena under the leader-ship of Pipe Major David Reid and Leading Tip Michael Cathcart claimed the highest award of the day when they won the world title in Grade 3A in convincing style.
This is the bands second year to win a world's championship title and assures them of promotion to the higher grade 2 next season.
Marlacoo, who were runners up, won the drumming title in Grade 3A under Leading Tip Richard Coffey and Banbridge took the final 6th placing. In 3B the title went to an overjoyed Annsborough band with Pipe Major Brendan Mullen with Battlehill taking runner up place.
The Grade 4A world championship title was won by Castlerock under the direction of Pipe Major Jonathan Campbell and Leading Tip Willie Wray and Sgt Walker Memorial who were in 3rd place won the title of best drum corps in 4A with Leading Tip Ernie Scullion.
This was a tremendous victory for Castlerock who just started competing a short time ago, but with the experience of Jonathan Campbell and the legendary Willie Wray it was a success story waiting to happen.
Only one world championship drum major title went to Ulster with Donna Gillespie from Gransha band winning the Juvenile title. Ulster drum majors made a clean sweep in this section winning all 5 places.
While Field Marshal Montgomery had success by taking 1st place in the MSR Grade 1 their 3rd placing in the Medley section just narrowly denied them the final victory. They took runners up place just one point behind Shotts who, although they only had two-second places, gave them enough to clinch the overall title.
Ballycoan gave a good performance in the qualifying round and came out on top with two firsts in piping. Although not in the first six places the band did well to make the finals of the top bands in this elite grade in piping.
This Saturday August 20 is the final outdoor competition of the 2005 season. The Ulster Championships will be held in Portrush and all winning world champions will be on parade, and as is the custom, will receive the well-deserved applause of their fellow competitors.
The final event in the piping calendar will be the Cowal Highland Games, which will take place on August 27 in Dunoon.
Results of 2005 World Pipe band Championships
Grade 1 - MSR. 1st. Field Marshal Montgomery. 2nd. House of Edgar-Shotts. 3rd. Simon Fraser University. 4th. St.Laurence O'Toole. 5th. Strathclyde Police - also drums. 6th. Scottish Power. Grade 1 Medley - 1st. Simon Fraser University. 2nd. House of Edgar-Shotts - also drums. 3rd. Field Marshal Montgomery. 4th. 78th Fraser Highlanders. 5th. Strathclyde Police. 6th. St. Laurence O'Toole.
Grade 1 Final Tables - 1st. House of Edgar-Shotts & Dykehead. 2nd. Field Marshal Montgomery. 3rd. Simon Fraser University. 4th. Strathclyde Police. 5th St. Laurence O'Toole. 6th. 78th Fraser Highlanders
Grade 2 - 1st. Drambuie Kirkiston. 2nd.Torphichen & Bathgate. 3rd.Windsor Police. 4th.Ravara - also drums. 5th. 52nd Lowland Regiment. 6th. Dumfries & Galloway Const.
Grade 3A - 1st. Seven Towers. 2nd. Marlacoo - also drums. 3rd. Strathclyde Fire Brigade. 4th.Prince Charles. 5th. Colburn IOR. 6th. Banbridge.
Grade 3B - 1st. Annsborough. 2nd. Battlehill. 3rd. Royal Burgh of Annan. 4th. Linlithgow & District. 5th. Cottown. 6th. Bo'ness RBLS. Best Drums - Hamilton Police.
Grade 4A - 1st. Castlerock. 2nd. Aughintober. 3rd. Sgt Walker - also drums. 4th. Corpus Christi. 5th. Lanark & District. 6th. Cumnock & District.
Grade 4B - 1st. Drumlough. 2nd. University of Strathclyde. 3rd. Cullybackey. 4th. Raffrey. 5th. Pietermaritzburg Caledonian. 6th. Moneygore. Best Drums - Preston pans RBL.
Novice Grade - 1st. Kintyre Schools. 2nd. George Watsons College - also drums. 3rd. Methil & District. 4th. Robert Wiseman Dairies Vale of Atholl. 5th. Monkstown Mossley. 6th. Paisley.
Junior Drum Majors - 1st. Andrew Symon. 2nd. Linzi Hamilton. 3rd. Sharon Martin. 4th. tie. Caroline Clydesdale and Craig Clydesdale.
Juvenile - 1st. Donna Gillespie. 2nd. Alicia Dickson. 3rd. Elizabeth Sloan. 4th. Jemma Clydesdale. 5th. Emma Chambers.
Senior - 1st. John Noble. 2nd. Ian Young. 3rd. G.Craig. 4th. Brian Wilson. 5th. Victoria Singer.
Ulster Star
/2005