Heading
Pipe Bands by Mervyn McConnell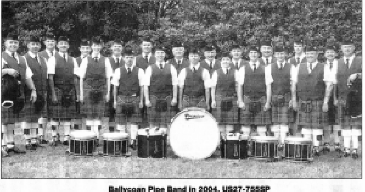 BALLYCOAN Pipe Band will be one of over 100 bands who will take part in the British Pipe Band Championships on Saturday in Tain, Scotland. Ballycoan Pipe Band was founded by William Gregory in 1935 and currently has around 30 members between 12-50 years of age.
In 2002 the band won every competition they entered, ending up as the Grade 2 Supreme Champions in the world before moving to Grade 1 in 2003.
Band manager Mr. Brian Rea states: "We are really looking forward to the British Pipe Band Championships in Tain, it is great to be a part of a large event like this.
"Although Grade 1 will be challenging we know the members of Ballycoan Pipe Band are determined to do themselves credit".
Tain, which is situated 36 miles north of Inverness, is now easily accessible by plane from Belfast to Inverness, and is set in the Scottish Highlands among the most breathtaking scenery that makes it an excellent base for touring the Highlands.
A whole weekend of fun and entertainment for all the family will take place during the British Pipe
Band Championships, including a street party and firework display on the evening of July 30.
During the day, as well as the main event of the competition, there will also be a funfair, children's entertainment, craft stalls, live music, cookery demonstrations and lots more.
Local Tain Councillor, and spokesperson for the Championships, Mr. Alisdair Rhind said: "We are really looking forward to hosting this event, which will include around 112 Pipe Bands, and everyone who comes along can be assured that a very warm Highland welcome will await them in Tain."
The Ballycoan Pipe Band have a busy schedule over the coming weeks playing at many forthcoming championships including the Bangor North Down Championships on July 23, the British Pipe Band Championships in Tain on July 30, and the Lagan Valley Championships in Moira on August 6.
They will then take part in the 75th World Championships in Glasgow on August 13, the Ulster Championships in Portrush on August 20 and the Cowal Championships in Denoon on August 27.
Ulster Star
29/07/2005