Pipers are piping hot in Moira
Pipe Bands by Mervyn McConnell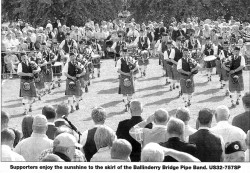 PIPE bands and drum majors hit the high notes in Moira Demesne last weekend, as 61 bands went head to head in the City of Lisburn Pipe Band Championships.
Crowds of some 7,000 turned out to enjoy the sunshine and hear the wonderful tunes of the pipes.
Local band and current world champions, Field Marshall Montgomery, were in fine form as they secured their winning place in Grade 1, which should give them confidence as they enter the World Championships in Glasgow this weekend.
The Mayor of Lisburn City Council, Councillor Jonathan Craig was honoured at being the Chieftain of the day and took the salute from the bands in the impressive final march past.
Speaking at the Championships, President of the Royal Scottish Pipe Band Association, George Usher commented, "Moira is looking splendid in full bloom and we are grateful to Lisburn City Council for their invaluable assistance in organising the competition and for their support on the ground today.
"The City of Lisburn Championships is the largest contest we have held in Moira to date and the event today has been such a success that I see no reason why Moira could not be the next setting for the Ulster Pipe Band Championships.
"Lisburn now has much experience in hosting pipe band championships and I look forward to the day when there will be another major event in the district."
Chairman of Lisburn City Council's Economic Development Committee, Alderman Edwin Poots said: "This year's event in Moira was one of the best domestic competitions we have ever seen in the City of Lisburn.
"I am very pleased that the event attracted so many supporters and spectators and am certain that a substantial boost to the local economy will be experienced as a result. My thanks to the local traders for helping to put Moira on the map."
Good luck from Lisburn City Council to all bands competing in the World Championships on Saturday.
The complete results were as follows:
Final Position Results:
Grade 1 Field Marshall Montgomery, Grade 2 Ravara, Grade 3A Marlacoo, Grade 3B Battlehill, Grade 4A Aughintober, Grade 4B Drumlough.
Ulster Star
12/08/2005