Lisburn players in the prizes at the World pipe band championships
Pipe Bands by Mervyn McConnell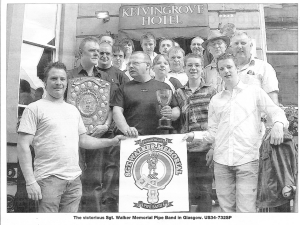 ON Glasgow Green at the 2005 World Pipe Band Championships, playing with the drum corps of the Sergeant Walker Memorial Pipe Band from Summerisland, Loughgall, Lisburn man Kenny Gibson shared in a richly deserved and much anticipated World Championship drumming title and a place prize for the band.
In the afternoon sunshine, in front of thousands, the whole band gave their best and moved forward from last year's success to take third prize in the Grade 4A Championship.
The Drum Corps went even better. Drum Sergeant Ernie Scullion, an All-Ireland and Ulster solo drumming champion, gave them a drumming score that set the music off to perfection. Kenny and his cohorts took it, played as they had always promised and lifted the World Championship.
With him and Drum Sergeant Scullion were Leslie Smyth and Robert Nutt and fifteen-year-old Katrina Hawthorne from Lisburn, taking a world title in her first contest season with the tenor drum.
Among the pipers were Lisburn's Linda Harron and Dromore's Paul Moore, both players of considerable accomplishment, and boosting morale in the back-ground was the ever-cheerful Kirsty Harron from Lisburn, herself at fifteen an accomplished drum major.
The playing was magic, but magic played no part. This performance is the peak of three years' hard work, so much of it done by Pipe Sergeant Ted Roleston who pulled in drummers and pipers from near and far and spent endless hours training young pipers and giving strength to the weak among the more seasoned players.
Pipe Major Ian Burrows (Portadown) not only instilled confidence and self-belief into the pipers, but also brought musical vision and leadership to the whole band.
The band has invested much time and energy with the young, and the effort has proved well worthwhile. The World Championship drum corps included Portadown ad Joe Bowles, just turned 18, and Adam Sandford (15) from Kilmore, Loughgall, who, like Katrina, took up the tenor drum only this year.
There are three pipers also just 15, Portadown College student Aaron Coulter and Royal School Armagh students Daniel Minnis and Paul Burns. Quite an achievement for four lads and a girl of fifteen, to be in prizes at the Worlds.
After the Ulster Championships in Portrush, the new season of training opens before the band. Why not come and have a go at it your-self? The band is recruiting and there must be unattached pipers and drummers within travelling distance who could join the ranks, and youngsters who would relish the pipe band experience.
Pipe Sergeant Roleston trains the learner pipers, and Drum Sergeant Scullion takes on the beginners with the sticks, supported by Kenny Gibson, another solo champion.
Ulster Star
26/08/2005