Locals are the best of the best
Pipe Bands by Mervyn McConnell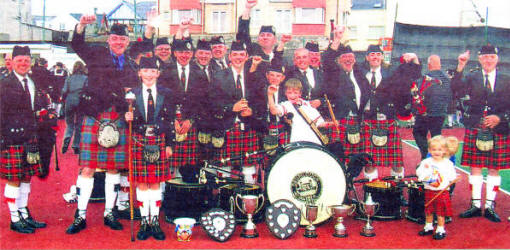 Drumlough Pipe Band after being crowned the North West overall champions in Portrush last weekend. The band also came first in piping and drumming. In the champion of champions competition Laureen Hanna took first place in the Drum Majors category. US34-734SP
FOR forty years now the North West Piping Festival has taken place at Portrush and last Saturday this venue proved once again the jewel in the crown for pipe band supporters. A brilliant sunny day in which thousands of holiday makers and band men and women packed the seaside town to enjoy the championships and the now famous parade of the Town.
The competition has developed into a two-day event with a solo piping, drumming and dancing display on the Friday evening followed by the Drum Majors parade down the Main Street.
Fifty-four bands and forty-seven drum majors took part in the championships on the Saturday at Ramore Head, which was the final event in the Champion of Champions awards.
The North West Festival brought together an international panel of adjudicators with Nat Russell from Australia, Ken Eller from Canada, Jim Wark and Jim Baxter from Scotland as well as local men Winston Pollock, Denver Cardwell Gordon Parks and Adrian Hoy.
Field Marshal Montgomery Pipe Band added another five championship trophies to their collection winning first place, best pipes, best drums, best bass section and Marching and Deportment in Grade 1. Ballycoan won the champion of champion's awards in both piping and drumming.
Local band Drumlough took all of the top prizes in Grade 4A which gave them the overall champion of champions band award for the year. Their drum major Lauren Hanna also won the novice title on Saturday giving her the champion of champion's trophy.
Other victories went to Ravara and Seven Towers tied for best pipes in Grade 2, Battlehill in 3A in both piping and drumming, Cottown in piping in 3B with Gortaclare winning best drums, and Derryclavin in 4B in both piping and drumming.
Drum Major titles went to Samantha Gordon in junior, Donna Gillespie in juvenile and Ian Young in senior grades.
The Cowal Highland Games will take place in Dunoon Scotland on Saturday August 26 where some of our bands and drum majors will travel over to compete for the final event of the 2006 season.
The Royal Scottish Pipe Band Association Northern Ireland Branch will be presenting the Scottish Fiddle Orchestra in concert at the Ulster Hall Belfast on September 23.
The three-hour show will be recorded for a television show at a later date.
Tickets are still available at the RSPBA NI Branch office 32A Bachelors Walk Lisburn 9267 0445.
The Gig'n the Bann cross cultural music and dance Festival will take place from August 31 to September 3 at Portglenone Co. Antrim.
The Opening Night on Thursday August 31 will present Cullybackey Junior Pipe Band in concert at the Factory Wild Duck at 8pm.
Then on Saturday September 2 the pipe band festival will take place at the Playing Fields Portglenone Marina at 1pm. For further information on other events please see www.gignthebann.com.
The All Ireland Solos will take place on Saturday September 16 at the High School Newry.
Results
| | |
| --- | --- |
| Grade I - | 1st. F. M. Montgomery (plus best pipes, best drums, best bass section and M&D) 2nd. Bleary & District. 3rd. Ballycoan. |
| Grade 2 - | 1st. Cullybackey (also best drums). 2nd. Seven Towers. 3rd. Ravara. (also best bass section). 4th. Killeen. Ravara and Seven Towers tied for best pipes. |
| Grade 3A - | 1st. Battlehill (also best pipes and best drums). 2nd. Banbridge. 3rd. Tamlaght O'Crilly (also best bass section) 4th. North Belfast. |
| Grade 3B - | 1st. Cottown (also best pipes). 2nd. Aughintober (best bass section) 3rd. Gortaclare (also best drums). 4th. Killen. |
| Grade 4A - | 1st. Drum lough (also best pipes and best drums) 2nd. Dromara. 3rd.Raffrey. 4th. Manorcunningham. Best Bass section to Syerla.. |
| Grade 4B - | 1st. Derryclavin (also best pipes and best bass section). 2nd. Killadeas. 3rd. Rasharkin(also best drums). 4th. Moneygore. |
| Novice Drum Majors - | 1st. Lauren Hanna. 2nd .Lauren Abraham. 3rd. Rachel Caldwell. 4th. Emma Barr. 5th. Bethan Martin. |
| Junior - | 1st. Samantha Gordon. 2nd. Linzi Hamilton. 3rd. Gary Scanlon. 4th. Lauren Muldrew. 5th. Kiera Wilson. |
| Juvenile - | 1st. Donna Gillespie. 2nd. Laura Jane Lawson. 3rd. Ryan Ferry. 4th. Emma Chambers. 5th. lemma Clydesdale. |
| Senior - | 1st. Ian Young. 2nd. Paula Braiden. 3rd. David Brownlee. 4th. Kathy Megarry. 5th. Brian Wilson. |
Champion of Champions
| | |
| --- | --- |
| Grade 1 - | Ballycoan also drums. |
| Grade 2 - | Cullybackey also drums. |
| Grade 3A - | Battlehill also drums. |
| Grade 3B - | Cottown. Best drums Gortaclare. |
| Grade 4A - | Drumlough. Best drums St.Laurence Howth. |
| Grade 4B - . | Killadeas. Best drums Rasharkin |
| Novice Drum Major - | Lauren Hanna |
| Junior Drum Major - | Linzi Hamilton. |
| Juvenile Drum Major - | Donna Gillespie. |
| Senior Drum Major - | Kathy Megarry. |
Ulster Star
25/08/2006