Triumphant season continues for Drumlough at Championships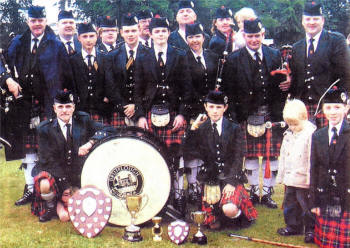 Drumlough Pipe Band was first overall in Best Pipes, Best Bass and Best Tenor March and Lauren Hannah was first in Junior Drum Major.
DRUMLOUGH Pipe Band continues its triumphant season with yet another win - this time at the 34th County Antrim Pipe Band and Drum Major Championships, which were held last Saturday in Antrim town.
It has been over 30 years since this event was held in the town and everyone was warmly welcomed by Alderman Sam Dunlop Mayor of Antrim to Castle Gardens for the championships.
There appears to be no stopping Drumlough so far this year and they won first place in 3B with Killen taking the drumming prize.
Cullybackey were on winning form when they won the Grade 2 as well as the Open Grade under Pipe Major Robert Cupples. This band has been performing well on home ground and has high hopes of continuing their winning streak this season. Challenging them all the way though will be Seven Towers Pipe Band, who tied with them in both grades on piping, and took runner up place.
Killeen won the drumming in Grade 2 and Ravara in the Open grade.
Other winners at Antrim were Annsborough in 3A with Finvoy taking the drumming trophy; Killadeas in 4A winning the treble - best pipes best drums and overall first place and Dr Wright Memorial first in 4B and winners of the best pipes.
Names on the drum major trophies were Kathy Megarry Calvin (Senior) Ryan Ferry (Juvenile) Lauren Hanna (Junior) and Emma Barr (Novice).
Adjudicators were Trevor Dear, Harry Stevenson, Mark Wilson, Alistair Aitken, Iain Simpson, Winston Pollock, Sandy Steele and David Clark.
The Mid Ulster section of the RSPBA will host their 53rd annual Pipe Band Championships in Cookstown High School on Saturday June 9 commencing at 12 noon.
A large entry of 47 bands, including four in Grade 1 and 50 drum majors are entered of this event. Adjudicators for the day for piping are Ian Wood, Gordon Lawrie, John Moles and Denver Cardwell and for drumming Michael O'Neill and Gordon Parkes and for ensemble Jim Baxter and Malcolm MacKenzie Chieftain for the Day will be Alan Ferry associated with Aughintober Pipe band.
A belated congratulations to secretary of the Co. Antrim section - Gloria Aicken (nee Patterson) who was married on May 4. Best wishes to Gloria and husband Brian for a long and happy marriage.
The Co. Down sections competition will be held on Saturday June 16. They hope to spice up the event with an appearance from the Red Hot Chilli Pipers who will perform on Friday June 15 at the Iveagh Studios Banbridge as well as at the contest on Saturday.
Grade 4B - 1st. Dr. Wright Memorial (also best pipes and M&D) 2nd. Moneygore.(also best drums) 3rd.Cleland Memorial. 4th. Antrim. Best Bass Upper Crossgare.

Grade 4A - 1st. Killadeas (also best pipes and best drums). 2nd. Dromara. 3rd. Cullenfad. 4th. Gransha. Grade 3B - 1st. Drumlough. (Also M&D, best bass and tied for best pipes). 2nd. Killen (also tied for best pipes). 3rd. Raffrey. 4th. Ballydonaghy.

Grade 3A - 1st. Annsborough (also best pipes) 2nd. Cottown. (also M&D) 3rd. Gortaclare. 4th. Finvoy (also best drums and best bass)

Grade 2 - 1st . Cullybackey (also tied for best pipes). 2nd. Seven Towers (also tied for best pipes). 3rd.Killeen. (best drum corps). 4th. Ravara (best bass and M&D)

Grade 1 - 1st . Cullybackey. (Tied for best pipes) 2nd. Seven Towers. (Tied for best pipes) 3rd. Ravara. (also best drums and best
bass) 4th. Killeen.

Novice Drum Majors - 1st. Emma Barr. 2nd. Bethan Martin. 3rd. Lauren Abraham. 4th. Rachael Caldwell.

Junior - 1st. Lauren Hanna. 2nd. Lorna Robinson. 3rd. Gary Scanlon. 4th. Craig Clydesdale. 5th.Stephen Gilchrist. 6th. Dale Fisher.

Juvenile - 1st. Ryan Ferry. 2nd. Linzi Hamilton. 3rd. Samantha Gordon. 4th. Gemma McKinney. 5th.Caroline Clydesdale. 6th. Emma Chambers.

Senior - 1st. Kathy Megarry Calvin. 2nd. Paula Braiden. 3rd. Brian Wilson. 4th. David Brownlee. 5th. Andrea McKeown.
Ulster Star
08/06/2007