Sun shines on Ulster Festival in Moira Demense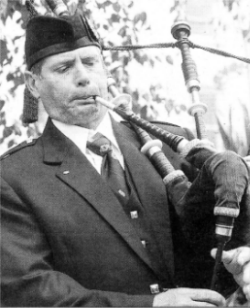 THE 56th Ulster Pipe Band Festival was held last Saturday at Moira Demesne and with the added attraction of a beautiful sunny day it was an event that seen many hundreds of supporters and visitors flock to the village.
It is the ambition of the Northern Ireland branch now to put on a show that caters for all the family, and with the extra addition of a free concert by the Tannahill Weavers, the new look Festival certainly is providing good value entertainment.
In Grade 1 the winners were St. Laurence O'Toole with Ballycoan in runner up place. Grade 2 was won by Cullybackey, with Annsborough winning Grade 3A. 3B was won for the first time this season by Killen who beat the 11 times champions Drumlough into second place. Cullenfad continue their winning form taking top place in 4A with Dr. Wright first in 4B.
The winning drum majors were Laura Abraham (novice), Lorna Robinson (junior), L. J. Lawson (juvenile) and Kathy Megarry Calvin (senior).
The action commences at 9am on Saturday August 11 for this year's world pipe band championships, where 224 bands will challenge for the honour of being the best in the world.
Bands will be competing from Canada, USA, New Zealand, Australia, Sweden, Denmark, Italy, Brazil, Oman, Wales Scotland England and both North and South of Ireland.
Around
50 bands from Ulster will be travelling to Glasgow to compete in the world championships and there is great potential among our bands in bringing home much of the silverware.
Field Marshal Montgomery will be hoping to retain their championship crown in Grade 1 with four of our top Grade 2 bands in with a very good chance of claiming the ultimate prize in that grade. In the other grades it is looking good for Annsborough in 3A Drumlough Grade 3B and Cullenfad 4A.
There will be a parade of Portrush town centre on Friday August 17 as part of the 'Youth in Action' programme organised by the Northern Ireland Branch of the RSPBA. It will leave the Comfort Hotel around 7pm and parade to the Bandstand. Taking part this year along with the Novice and Junior drum majors will be the Robert Malcolm Memorial Pipe Band from British Columbia in Canada.
Afterwards the annual individual recital competition will be held in the Catering College from 7.30pm. Players who have obtained places at solo competitions throughout the year will be invited to give a recital of approximately ten minutes. Adjudicators for this event will be Pipe Major Terry Lee from the Simon Fraser University Pipe Band from Vancouver and Pipe Major Ken Eller from Ontario.
Both these men have a wealth of piping talent and success to their credit. Then on Saturday August 18 it is the turn of the full bands contest with the North West Championships at Ramore Head Portrush.
Results
Novice Drum Majors - 1st. Laura Abraham. 2nd. Rachel Caldwell. 3rd. Emma Barr. 4th. Elizabeth Morrow. 5th. Bethan Martin.

Junior - 1st. Lorna Robinson. 2nd. Lauren Hanna. 3rd. Gary Scanlon. 4th. Stephen Gilchrist. 5th. Craig Clydesdale.

Juvenile - 1st. L.J. Lawson. 2nd. Ryan Ferry. 3rd. Linzi Hamilton. 4th. Samantha Gordon. 5th. Emma Chambers.

Senior - 1st. Kathy Megarry Calvin. 2nd. Ian Young. 3rd. Brian Wilson. 4th. Alicia Dickson. 5th. David Brownlee.

Grade 4B - 1st. Dr: Wright. 2nd. Wm Kerr Memorial (also best pipes). 3rd. Upper Crossgare (also best drums and best bass). 4th. Moneygore.

Grade 4A - 1st. Cullenfad. 2nd. Killadeas (also best pipes). 3rd. Gransha. 4th. St.Laurence Howth. (Also best bass). Best Drums - Rasharkin.

Grade 3B - 1st. Killen. (Also best pipes, best drums and best bass) 2nd. Drumlough. 3rd. Raffrey. 4th. Augharonan.

Grade 3A - 1st. Annsborough (also best drums and best bass) 2nd. Aughintober (also best pipes) 3rd. Arklow. 4th. Finvoy.

Grade 2 - 1st. Cullybackey (Also best pipes, best drums and best bass) 2nd. Ens preference. Seven Towers. 3rd. Ravara. 4th. Killeen.

Grade 1 - 1st. St. Laurence (also best pipes, best drums best bass). 2nd. Ballycoan.
Ulster Star
10/08/2007