St Laurence O'Toole band claim title for first time in 49 years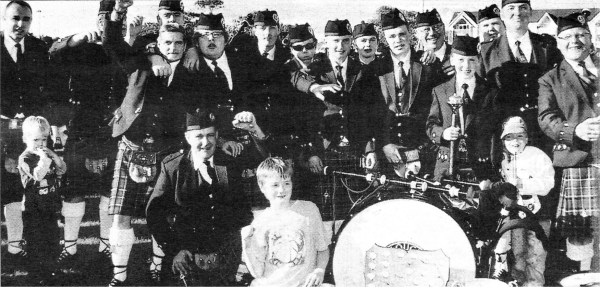 Drumlough Pipe Band who won the all Ireland Trophy in the recent event At the same time they also won the First Pipe. First Best Drum Corp. First March and Laura Hannan also gained a first in the event.
ST. Laurence O'Toole, for only the second time in their bands history, won the coveted All Ireland Pipe Band Championships last Saturday in Newcastle.
Good weather for much of the day brought a record crowd to Donard Park to enjoy the splendour of the occasion with many attractions for all the family.
But the Pipe band competition was the main attraction and in Grade 1 Field Marshal Montgomery were out to claim the title for the seventh time in a row. They started off winning the MSR and the best drums but St. Laurence O'Toole came back in the Medley to win four firsts across the board in piping. drumming and ensemble. Under the leadership of Pine Major Terry Tully and Leading Tip Stephen Creighton, only two points separated the two bands in the final count with St. Laurence O'Toole claiming the overall title-their first since 1958. Field Marshal Montgomery were in second place with Ballycoan third, Ballinderry Bridge fourth and Bleary in fifth.
Cullybackey with Pipe Major Robert Guppies continued their charge in Grade 2 and won the grade over Ravara and winners of the best drums corps. Seven Towers took third with the visiting Phoenix Honda Glasgow Skye in fourth place. in Grade 3A Annsborough. under the leadership of Brendan Mullen. sailed through to claim the drumming, Marching and Deportment. best bass and 1st overall. Southern band Arklow took the runner up place.
In Grade 3B there appears to he no stopping Pipe Major Ian Burrows anti Drumlough as they took their tenth win in a row this season. Again second place went to a Southern band-Cullen. Cullenfad took the honours in 4A with Wm Kerr Memorial winning the 4B grade anti also the best drumming prize.
In the drum majors competition. Paula Braiden took the honours in the senior grade with Ryan Ferry the juvenile title. Lauren Hanna the junior and Rachel Caldwell the novice title.
Any one who missed the spectacle will be pleased to know the whole event was recorded by the BBC television and will be shown at a later date.
There is a one-week break for the holidays with the competitions recommencing on Saturday 21st July with the North Down Pipe band Championships in Bangor.
There are 32 bands entered for this event and the adjudicators are Alistair Aitken. Tony Sloane, Harry Stevenson and Sandy Steele.
There is also a solo-piping contest at Bangor starting at 3pm for age groups - under 14. under 16 and under 18. Enter on the day of the contest at the registration tent.
Results All Ireland
Grade 1 - 1st overall 1st. St.Laurence O'Toole. 2nd. Field Marsha: Montgomery. 3rd.Ballycoan. 4th.Ballinderry Bridge.

MSR - 1st. Montgomery (Also best drums). 2nd.St.Laurence O'Toole. 3rd. Ballycoan. 4th. Ballinderry Bridge.

Medley - 1st. St.Laurence O'Toole (also best drums). 2nd. Montgomery. 3rd. Ballycoan. 4th. Ballinderry Bridge.

Grade 2 - 1st. Cullybackey (Also best bass) Tied with Ravara for best pipes. 2nd. Ravara (also best drums and M&D). 3rd. Seven Towers. 4th. Phoenix Honda Glasgow Skye.

Grade 3A - 1st. Annsborough (best drums. best bass and M&D) Tied with Ark-low for best nines. 2nd. Arklow. 3rd. Aughintober. 4th. New Ross.

Grade 3B - 1st. Drumlough (also best pipes best drums and M&D) 2nd. Cullen. 3rd. Raffrey. 4th Killen, (also best bass)

Grade 4A - 1st. Cullenfad. 2nd.St.Laurence Howth. (Best drums). 3rd. Gransha. 4th. Cullybackey.

Grade 4B - 1st. Wm. Kerr Memorial (also best drums and M&D) 2nd. Moneygore. 3rd. Upper Crossgare. 4th :Bready Ulster Scots (also best bass section).

Senior Drum Majors - 1st. Paula Braiden. 2nd. Ian Young. 3rd. David Brownlee. 4th. Kathy Megarry Calvin. 5th. Brian Wilson.

Juvenile - 1st. Ryan Ferry. 2nd. Linz Hamilton. 3rd. Samantha Gordon. 4th. Gemma McKinney 5th. Emma Chambers.

Junior - 1st. Lauren Hanna. 2nd. Craig Clydesdale. 3rd. Lorna Robinson. 4th .Dale Fisher, 5th. Lauren Muldrew.

Novice - 1st. Rachel Caldwell. 2nd. Laura Abraham. 3rd. Bethan Martin. 4th. Emma Barr. 5th. Lauren McKeown.
Ulster Star
13/07/2007