RSPBA hold AGM at Trinity Methodist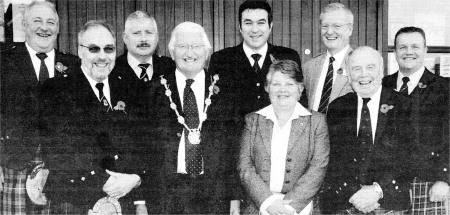 Lisburn's Deputy Mayor and Mayoress are pictured with office bearers of the Royal Scottish Pipe Band Association at their AGM in Trinity Methodist Church, Lisburn last Saturday afternoon (10th November). L to R: (front) George Ussher - RSPBA President, Councillor Ronnie Crawford (Deputy Mayor), Mrs Jean Crawford (Deputy Mayoress) and Fred Walker - RSPBA President (Northern Ireland Branch). (back row) Kevin Reilly - RSPBA Chairman, Kenny Crothers - RSPBA Treasurer (NIB), Alistair Patterson - RSPBA Vice Chairman (NIB), Ian Embelton - RSPBA Chief Executive and David Scott - RSPBA Secretary (NIB).
THE 57th Annual General Meeting of the Royal Scottish Pipe Band Association, Northern Ireland Branch, took place at Trinity Methodist Church Hall, Knockmore Road, Lisburn, last Saturday (November 10).
Ian Embelton Chief Executive, Kevin Reilly Chairman (both from the Royal Scottish Pipe Band Association in Glasgow), June Nolan, Paddy Long and Ciaran Mordaunt Chairman of the Irish Pipe Band Association were guests at the AGM and were welcomed by George Ussher Chairman of the Northern Ireland Branch.
Ian Embelton congratulated the Northern Ireland bands on their domination at the world's championships and said that they are now the bands setting the standard for the rest of the world to follow. He also informed the representatives that BBC television will be recording the 2008, 2009 world championships. The RSPBA are also looking forward to coming to Northern Ireland next year to hold the European championships in Lisburn. It is also hoped that in 2010 a bid will be put forward to hold the World Pipe Band Championships in Northern Ireland with the other contender coming from Glasgow City Council.
The recommendation from the Branch Executive that the MAP format be removed from the Ulster Championships and the competition reverted back to a pre-MAP format was passed. Also passed was the Notice of Motion proposed by the RSPBA NI Branch Executive that properly constituted alternation to rules and notices of motion must appear on the order paper for discussion by the membership at the AGM.
All other Notices of Motion and alternations of RSPBA rules failed.
Election of Officers for the 2008 year are: President – Fred Walker, Vice President – Winston Pinkerton, Chairman – George Ussher, Vice Chairman- Alastair Patterson, Hon Secretary – David Scott, Treasurer – Kenny Crothers, Assistant Secretary- Mrs Barbara Cairns, Assistant Treasurer – Walter McKibben, Contest Administrator – Mervyn Herron, Public Relations Officer – Mervyn Herron, Trophy Officer – Roy McCullough, Chief Stewart – Brian Harvey, Child Protection Officer – Winston Pinkerton, Press Officer – Mervyn McConnell. An invitational solo piping competition will take place on Saturday November 17 commencing at 2pm in the Fort Bar Main Street Dungannon. Adjudicator will be Fred Morrison who will also give a recital at the close of the competition. When the recent world solo drumming championships were held in Scotland it produced a surprising result. And we don't mean the fact at all that Barry Wilson won the senior title but it was because Jim Kilpatrick, the 16 times world solo drumming champion, didn't even qualify for the final.
In a recent interview for the pipes/drums, Jim said that he had prepared adequately for the competition but because of a slip with an accented roll in the seventh bar, he did feel that perhaps it would cost him first place but still thought he would make the Final. But adjudicators Mick O'Neill and Arthur Cook thought differently and both put him down into eighth place so ruling him out of competing in the Final play off. Jim went on to say that he felt every mixture of emotions possible - except anger. He also stressed that he felt great for Barry Wilson on his 2007 world solo drumming championship victory especially since Barry played in Kilpatrick's Shotts & Dykehead corps for many years before taking on the Leading Tip position at Scottish Power. He believed that it was a tightly fought Final and every drummer deserved their place and congratulations to them all. But he also promised that he would be back again next year for another chance at winning the title of world drumming champion. Pipe Band will be holding a Dinner Dance to celebrate their 2007 season victories. It will take place at the Donard Hotel Newcastle on 30th November 30 at 8pm and the cost is £18. Music will be by Johnny Quinn. Contact Info@annsboroughpipeband.com for further information and tickets.
Ulster Star
16/11/2007