Drumlough lift Scottish crown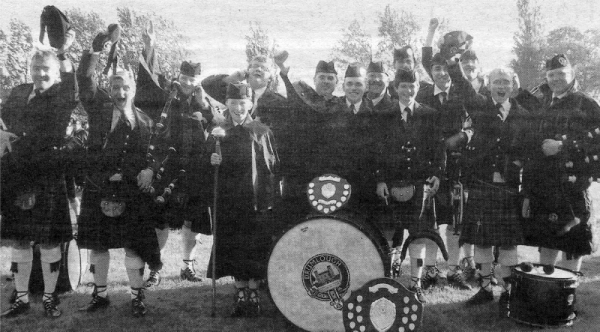 Drumlough Pipe Band celebrate their success in the Scottish Championships
WHAT a day for Seven Towers Pipe Band from Ballymena and Drumlough from Lisburn when they won the Scottish Championships in Dumbarton last Saturday.
Grade 2 Seven Towers under the leader ship of Pipe Major David Reid and Leading Tip Stephen Purvis had 2 point: to spare over their nearest rival Torphichen and Bathgate who won the drumming title. Cullybackey were third and Ravara 5th in Grade 2.
This is just the second year for Sever Towers to compete in Grade 2 and this victory must give them a lot of encouragement as they compete in this new season.
Drumlough with Pipe Major Ian Burrows continue their winning form when they won 3B. This band has taken every title so far this season and will be the one to beat in this grade.
Raffrey were runners up and winners o the best drumming title. These two were the only local bands to take a prize in 3B.
Field Marshal Montgomery, although gaining two first place scores in piping came in third in Grade 1. This was won by Strathclyde Police who took the drumming title under Leading Tip Eric Ward, originally from Banbridge Cullenfad were in second place and Matt Boyd Memorial 3rd in Grade 41 which was won by Duns. Ian Young won the Scottish Adult drum major championships with Ryan Ferry taking the Juvenile title.
The Fermanagh Championships will take place on Saturday May 26 at the new venue of the Fermanagh Lakeland Forum Enniskillen, which is just beside Enniskillen Castle within a short walking distance of the town centre.
The contest starts at 12.15pm for the Drum Majors dress section with bands commencing with Grade 4A at 12.45pm. There are entries of 39 bands and 40 drum majors with the last band scheduled to play at 4.30pm.
Adjudicators are Richard Parkes, Ian Wood, Colin Moffett, Winston Pollock, Adrian Hoy, Sandy Steele, Ciaran Mordaunt and Denver Cardwell.
The best news of all for the championships is that there is no admittance charge for the event, and there will be signs for direction to the free car park from the Belfast Road to Enniskillen.
The Chieftain of the Day will be Ivan Kee, treasurer for the Fermanagh section and a Drum Major with Trillick Pipe Band.
Enniskillen will be busy on this weekend as it is a holiday weekend and also there are some road works approaching the town centre, so it would be advisable to allow a bit of extra time when travelling. The Co. Antrim Championships will take place on Saturday June 2 at Antrim Castle Gardens commencing at 1pm. There are 40 pipe bands and 49 drum majors entered for the event.
Adjudicators are Trevor Dear, Harry Stevenson, Mark Wilson, Alistair Aitken, Ian Simpson, Winston Pollock, Billy Dunlop and David Clark.
Results of Scottish Championships
Grade 1 - 1st. Strathclyde Police (also best drums). 2nd. House of Edgar -Shotts and Dykehead. 3rd. Field Marshal Montgomery. 4th. St.Laurence O'Toole. 5th. Vale of Atholl. 6th. Boghall & Bathgate.

Grade 2 - 1st. Seven Towers. 2nd. Torphichen & Bathgate (also best drums) 3rd. Cullybackey. 4th.Lomand & Clyde. 5th. Ravara. 6th. Dumfries & Galloway Const.

Grade 3A - 1st. Johnstone. 2nd. Pitlochry & Blair Athol. 3rd. Williamwood. 4th Royal Burgh of Annan. 5th. New Ross and District. 6th. University of Strathclyde (also best drums)

Grade 3B - 1st. Drumlough. 2nd. Raffrey.(also best drums) 3rd. City of Brechin. 4th. Lanark & District. 5th. Methill & District. 6th. Greater Manchester Fire Service.

Grade 4A - 1st. Duns. 2nd. Cullenfad. 3rd. Matt Boyd memorial. 4th. Troon Blackrock (also best drums) 5th. Stow. 6th. Kirkcudbright & District.

Grade 4B - 1st. Northern Const (also best drums). 2nd. East Kilbride. 3rd. Badenoch & Strathspey. 4th. University of Bedfordshire. 5th. Denny & Dunipace. 6th. Fraserburgh RBL.

Senior Drum Majors - 1st. Ian Young. 2nd. Brian Wilson. 3rd. Paula Braiden. 4th. Campbell Gillies. 5th. William Jordan. 6th. Alan Morton.

Juvenile - 1st .Ryan Ferry. 2nd. Gemma McKinley. 3rd. Samantha Gordon. 4th. Linzi Hamilton. 5th. Jemma Clydesdale. 6th. Danielle Paton.

Junior - 1st. Iona Burns. 2nd. Lauren Hanna. 3rd. Craig Clydesdale. 4th. Betham Martin. 5th. Lauren Abraham. 6th. Matthew McKinney.
Ulster Star
25/05/2007