Leigh takes over role as youngest pipe-major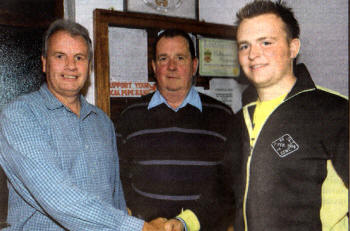 Leigh Anderson, right, the newly appointed Pipe Major at Banbridge Pipe band is congratulated on his appointment by Alan Gourley, outgoing pipe major. Included is former pipe major and band president Will Lyons. BL40126MC
NEW era has begun for Banbridge Pipe Band with the election of the youngest pipe-major in its 55-year history.
Nineteen-year-old Leigh Anderson from Dromore was formally appointed to the top role at the band's annual general meeting in Ballymoney Orange Hall last Thursday night.
He succeeds Alan Gourley, who had held the stripes at Banbridge for the last 12 years, but who will continue to grace the ranks of a band with which he has had a 40-year association.
Despite his tender years, Leigh is vastly experienced both as a competent soloist, where he has collected a vast array of awards, and at band level, firstly with Gransha and then in grade one with Ballycoan.
"I'm delighted to have been elected to this prestigious position and I'm thoroughly relishing the challenge in the years ahead," said Leigh.
Having gone through a brief period of transition during the spring and summer, Banbridge returned to the contest arena in Portrush in August, gaining a creditworthy fourth place to ensure that Alan's career as pipe major ended on a prize-winning note.
"Leigh will be a fantastic asset and he has already made a major impression as the band begins its preparations for the 2008 contest season in grade 3A," said Alan, who was presented with an engraved watch to mark his long tenure as piper and pipe major.
It was fitting that Alan proposed Leigh for the pipe major's job at the AGM, with the seconder being another ex-PM and long-serving stalwart of the band in Will Lyons BEM.
There was an excellent attendance at the meeting, where greetings were conveyed from another former pipe major in Walter Porter, who is currently hospitalised. Members, officials and guests extended best wishes for a speedy recovery to Walter, an esteemed vice-president and an ever-present at previous annual meetings.
Chairman Gary McDonald presided and extended a warm welcome.
Reports on the year's activities were tabled by secretary Keith Gourley and the treasurer, and despite the band trimming back on its competition and parading commitments, it had nonetheless continued to function fully, and a number of fund-raising events had taken place.
The band also performed in April at the 60th anniversary of the formation of Scarva Street Boys' Bridge Company.
Before the election of officers, president Will Lyons handed over the Hillhouse Trophy, which goes annually to a member who has made an exceptional contribution to Banbridge Pipe Band over the previous year or years.
The 2007 winner was Ian Gourley, who joined the band as a 10-year-old more than 40 years ago and who was made leading drummer at the age of just 14. Among his early proteges were Eric Ward and Lee Lawson, both of whom have gone on to glory both in solo work and in grade one bands in Scotland.
Vice-president Joe McComb, a former drummer in the band, conducted the election of officers, which resulted as follows:
Pipe major - Leigh Anderson; pipe sergeant - Neil Russell. Drum sergeant - Keith Gourley.

President - Will Lyons; vice-presidents - Mrs M McCaw, R. Porter, W. Porter, R. Russell, J. McComb, .J, Jelly, R. McKee, J. Clarke, H. Jardine, Mrs R Gourley

Chairman - Gary McDonald; vice chairman - Neil Russell.

Secretary - Keith Gourley; assistant - Tony Hillen

Treasurer - Gary McDonald; assistant - David Ervine.

Committee - Alan Gourley, Ian Gourley, David Russell, Tony Hillen, Ryan Sleator, Richard Beattie, Nicola Harrison, Cherry McDonald, Worthing Anderson, David McConnell, Stefan Bleakley, Matthew Shannon.

Reps to RSPBA and SWDBA - Ian Gourley and Alec Gordon

Band trustees - John Dobson, Samuel Lawson, Clive Chambers, Jim Bell, Jim Jelly, Will Lyons.
The meeting concluded with supper.
• Banbridge currently has vacancies for tenor drummers for next season, either experienced players or enthusiastic learners. A full tuition programme has been arranged for the coming months, and those interested in joining should contact Keith Gourley on 07793979876 or 40623222.
Ulster Star
05/10/2007