Magheragall Pipe Band wow the crowds in London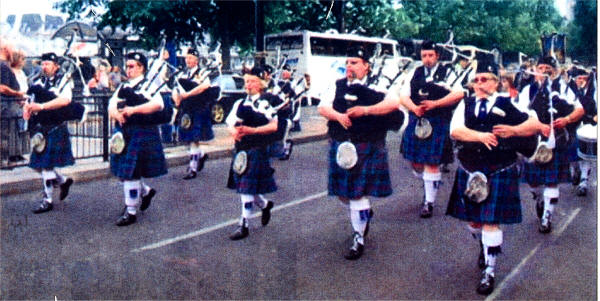 Magheragall Pipe Band on parade in London.
MAGHERAGALL Pipe Band recently returned home after a very successful trip to London.
The band went to London to take part in a parade, which started in Hyde Park.
It then passed down the side of Buckingham Palace, around Parliament Square, down Whitehall past the Cenotaph and finished at the Embankment.
Members of the public applauded as they went past in the brilliant sunshine.
The band came home after a triumphant weekend and all said the visit was a once in a lifetime experience.
The band would like to thank Awards for All for sponsoring part of the trip and Lagan Valley MP Jeffrey Donaldson for arranging a tour of Westminster.
The Band would also like to remind everyone about their Abbatastic Night' on Friday June 29 at 8.30pm in Lowquarter Orange Hall, Ballinderry Road, Magheragall.
This will be a night of 70's entertainment with an Abba tribute band, who will be supported by Big Deal. Supper will be served and everyone welcome. Seventies style optional.
Tickets are available from secretary Helen Tolerton on 07809 205399 (after 6.00pm).
Ulster Star
22/06/2007