Q&A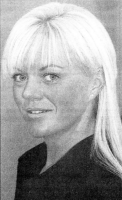 AMANDA Rice, 29, is the Manageress of the hairdressing shop `Trade Secret' in Bow Street Mall Lisburn and has recently graduated with a Master Colour Award.
What do you like doing on your day off?
On my day off, I get up early and go walking. I have a Norwegian Elkhound, and she has to be walked twice a day. After that I normally take myself off shopping as a bit of retail therapy is hard to beat. In the evening I would take my nephew to the cinema and buy lots of things I shouldn't be eating.
If you were to choose your favourite meal what would it be, where and why?
My mum's cooking is hard to beat to be honest. My favourite meal of the day is breakfast - weird as that might sound. I love a pancake stack with fresh cream and maple syrup. Breakfast in bed is nice, but that never happens. If I could choose somewhere I would say Venice watching the sunrise.
What has been your proudest moment?
Losing three stone and being selected as one of the 21 finalists in the 2001 Miss Northern Ireland contest. It was always my dream as a child to be in Miss World. I have been a gold member of Weight Watchers for six years now, and I have never looked behind me.
What was the most frightening moment of your life?
Everyone has their own troubles but for me it was beating cervical cancer, having my womb reconstructed. and losing some of my hair. It is an issue that affects a lot of women and I feel very blessed to have come though it.
How would you describe your taste in clothes? What's the most you ever spent on a single item?
I'm not a label girl as such. I would describe my taste as cheap chic. I like to wear what is in fashion but I won't mind if its from Primark and not Prada. I think its important that clothes fit you, and that they make you feel good. I prefer skirts, because of my long legs. Its hard for me to get jeans and trousers that fit right. The most expensive thing I've ever bought is a Christian Dior outfit from Fifth Avenue in New York. It was $2500. But I have to say well worth it.
What would you do if you won a million pounds?
Buy my own home. Then I would decorate it. I'm quite handy like that - I do all my decorating myself.
What was your most embarrassing moment?
When I was in New York I was waiting for my friend and spotted this guy buying coffee. Instantly recognizing him. I walked over and started to talk to him, questioning him as to how I knew him. He just kept laughing. I knew I knew him, but where was it from? He played along. It turned out it was Joshua Jackson. aka Pacey from Dawsons Creek. I nearly cried - I was that embarrassed. I fancied him rotten.
What sports person do you most admire?
Darren Clarke, being from my home town of Dungannon. He has really put our town on the map. I have great admiration for him for what he has gone through lately and that he is back playing his sport in honour of his wife.
Describe your best ever holiday. What would your dream holiday be?
I go on holiday every year to Ibiza and have done for the last 10 years. It is the best ever holiday, having everything on offer. Great island, the best night life, and such lovely locals. My sister Clare and I stay in the Palmyra and each year we go it feels like going home. My dream holiday is to go to Cancun in Mexico for Spring break.
If you could spend a day with a celebrity whom would you choose?
Katie Price. I think it is amazing what she has done and how she makes her money. She is a very wise lady and I would love to spend a day shopping with her.
Ulster Star
13/10/2006