JENNY MONROE
asks the questions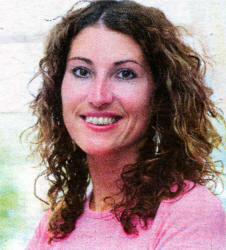 Angela Dunlop, 28, from Lisburn, works as a psychic angel card reader. She uses angel cards for readings and practice therapies such as Reiki and aromatherapy massage and runs Angel development courses.
Q&A
What do you like doing on your day off?
Going to the park with my daughter, Gabrielle, especially on sunny days.
Q&A
If you were to choose your favourite meal what would it be, where and why?
Thai food is my favourite. I like going to Thai Tantic, in Belfast.
Q&A
What has been your proudest moment?
Being a mum and watching my daughter grow up each day.
Q&A
What was the most frightening moment of your life?
Being attacked by four Alsatian dogs at the age of 9 - not the best memory.
Q&A
How would you describe your taste in clothes? What's the most you ever spent on a single item?
Casual but glamorous on a night out.
Q&A
What would you do if you won a million pounds?
Open a school that helps people bring out their 'hidden' abilities such as mediumship, psychic or healing. I would also help children charities.
Q&A
What was your most embarrassing moment?
Walking about with the back of my dress tucked down my underwear in a nightclub.
Q&A
What music do you like?
I also work as a DJ 'Miss Innocence', so its got to be funky and loud.
Q&A
What sports person do you most admire?
I can't think of any.
Q&A
What would your dream holiday be?
As long as there's a hot sun and sea I'm happy.
Q&A
What is your greatest remaining ambition?
To write books and travel.
Q&A
If you were on a desert island what three things would you like to take with you?
My daughter, radio and sun-cream.
Q&A
If you could spend a day with a celebrity whom would you choose?
I would choose Robbie Williams without a doubt.
FAVOURITE THINGS.....
| | |
| --- | --- |
| Car | BMW |
| Film | Dirty Dancing |
| Comedian | Billy Connolly |
| CD | Beautiful South albums. |
| Book | Anything by Doreen Virtue |
| Actor | Ewan McGregor |
| Actress | Nicole Kidman |
| Drink | Peppermint tea |
Ulster Star
23/06/2006