Q&A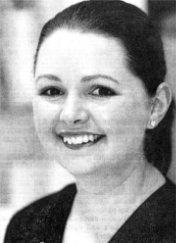 DROMORE woman Claire McConnell, 29, is Manager of the Estee Lauder counter in Menarys, Bow Street Mall. She has won various awards for the Beauty Company including the 'best of the best' customer service award.
What do you like doing on your day off?
I love to relax and go shopping with my husband or mum. I recently passed my driving test so I love going out in the car for a spin.
If you were to choose your favourite meal what would it be, where and why?
Definitely the Halfway House near Banbridge. The food is gorgeous. My favourite dish is the Carpetbaggers steak with Steak Diane Sauce and banoffee for dessert.
What has been your proudest moment?
Winning the all Ireland Estee Lauder 'best of the best' competition for customer service.
What was the most frightening moment of your life?
Five years ago when my dad had a heart attack. Thankfully he is ok now.
How would you describe your taste in clothes?
When I am not at work I wear smart/casual clothes during the day and if I am going out in the evening I like to dress up.
What would you do if you won a million pounds?
I would give a lot to charity and my family.
What was your most embarrassing moment?
I really cannot think of any so that is quite embarrassing not being able to answer this question.
What music do you like?
I love most music except rap. I like singing along to songs when I am driving.
What sports person do you most admire?
I am not a fan of sports but my husband is a big Liverpool Football Club fan. He thinks Steven Gerrard is great. I might not have an interest but I hear plenty about football and golf.
Describe your best ever holiday. What would your dream holiday be?
I got married in Antigua three years ago and stayed at the Blue Water Hotel. It was amazing. I would love to go back there as we were pampered from start to finish.
What is your greatest remaining ambition?
To carry on being happy and thankful for everything I have.
If you could spend a day with a celebrity whom would you choose?
Ann Maurice who presents House Doctor.
If you were stranded on a desert island what three things would you want with you?
My husband, a book and advanced night repair for my skin.
FAVOURITE THINGS.....
| | |
| --- | --- |
| Car | A red convertible Mini |
| Film | Nanny McPhee |
| Soap | Coronation Street |
| CD U2's | 'The Joshua Tree' |
| Beauty product | Estee Lauder's Advanced night repair |
| Actor | Colin Firth |
| Actress | Angelina Jolie |
| Drink | Hot chocolate with cream and marshmallows |
Ulster Star
08/12//2006