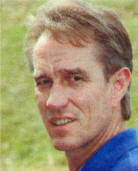 Colin Weir is the Manager of Pet Warehouse on Harry's Road Hillsborough.
Q&A
What do you like doing on your day off?
Spending time with my family and gardening.
Q&A
If you were to choose your favourite meal what would it be, where and why?
An Indian meal at the Bokhara restaurant in Hollywood. The food is delicious and the atmosphere is great.
Q&A
What has been your proudest moment?
When my children both passed the 11 plus.
Q&A
What was the most frightening moment of your life?
Being approached by the Star reporter to do this interview.
Q&A
How would you describe your taste in clothes?
Conservative. I like to dress in a smart casual way.
Q&A
What would you do if you won a million pounds?
Put it in the bank.
Q&A
What was your most embarrassing moment?
People reading my answers to this feature.
Q&A
What music do you like?
I have a wide taste of music but I don't like heavy metal. I am a fan of Neil Diamond.
Q&A
What sports person do you most admire?
Michael Schumacher.
Q&A
Describe your best ever holiday. What would your dream holiday be?
I was in Tunisia a few years ago and it was brilliant. The beaches, and hotel were lovely and it was a very relaxing holiday. I have always wanted to go to Australia.
Q&A
What is your greatest remaining ambition?
To make Pet Warehouse a household name.
Q&A
If you were on a desert island what three things would you like to take with you?
Wife, book and Carmex lip balm.
Q&A
If you could spend a day with a celebrity whom would you choose?
Michael Schumacher.
FAVOURITE THINGS.....
| | |
| --- | --- |
| Car | Porsche 911 |
| Film | Top Gun |
| Comedian | Peter Kay |
| CD | Any of Simply Red's |
| Book | The Da Vinci Code |
| Actor | Al Pacino |
| Actress | Kelly McGillis |
| Drink | Miller |
Ulster Star
14/07/2006