Q&A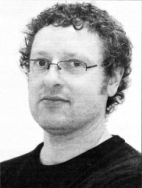 DAVID Barrett is the Manger of `Relax' - suppliers of affordable luxury steam showers, Jacuzzi baths, saunas and hot tubs, based at Bachelors Walk, Lisburn.
What do you like doing on your day off.
I like to chill out, catch up with my friends, go out for meals and I love going for long walks and partying in the evening.
If you were to choose your favourite meal what would it be, where and why?
I love Indian food. The Ganges restaurant in Holywood is my favourite. The chicken Tikka Masala is ultra fresh and you just want to pour it all over your face.
What has been your proudest moment?
Setting up in business was a big step for me and I am proud that it has worked out well so far.
What was the most frightening moment of your life?
I was petrified before I completed a 'black run' when I was skiing in France. I was terrified beforehand but it was so exhilarating when I was actually doing it.
How would you describe your taste in clothes? Trendy.
I like to dress in casual smart clothes.

What would you do if you won a million pounds?
Oh I'd splash out - go shopping in New York and have lots of fun with my friends. I'd try to live like a superstar.
What was your most embarrassing moment?
When I walked into a shop window and bounced off it. My pride was dented more than anything.
What music do you like?
I like dance, pop and classical music. My favourite bands are Coldplay and Snow Patrol.
What sports person do you most admire?
David Beckham - he's got everything.
Describe your best ever holiday. What would your dream holiday be?
I went to Greece years ago with some friends and it was out of this world. It was a windsurfing holiday and very relaxing - not commercial like a lot of places geared towards tourists. I loved exploring the island I was on. It was definitely a holiday of a lifetime. I would love to see the Great Wall of China.
What is your greatest remaining ambition?
To make my business a success.
If you could spend a day with a celebrity who would you choose?
David Beckham again. He has style, is a good sportsman, a great father and has lots of flash cars. It would be fun for a day to live like that.
If you were stranded on a desert island what three things would you want with you?
Toothbrush, MP3 player and bottled water.
MY FAVOURITE THINGS.....
| | |
| --- | --- |
| Car | A fleet of BMWs |
| Comedian | Ruby Wax |
| Film | The Austin Powers films |
| CD | Snow Patrol's `Eyes Open' Book Little Green Man |
| Actor | Mike Myers |
| Actress | Julia Roberts |
| Drink | Pint of black |
Ulster Star
20/10/2006