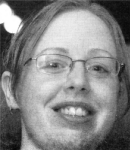 Emma Collins, is Musical Director of Rhythm and Rhyme Ladies Choir who are performing at the Island Civic Centre tonight (Friday September 22). Emma is training to be a music teacher and lives in Culcavey.
Q&A
What do you like doing on your day off?
I don't get very many days off so any time I have to myself I like to sit down and catch up on all the biz with my friends.
Q&A
If you were to choose your favourite meal what would it be, where and why?
I enjoy going to Cardan in Railway Street. The South Asian chicken is lovely.
Q&A
What has been your proudest moment?
Getting accepted by the University of Ulster to study for a PGCE.
Q&A
What was the most frightening moment of your life?
When I was rushed into hospital after developing pains in my head.
Q&A
How would you describe your taste in clothes?
Casual and comfortable.
Q&A
What would you do if you won a million pounds?
Pay off my debts, give some money to my family and charity and set up a deli business.
Q&A
What was your most embarrassing moment?
During a concert last year I forgot to inform one of the two pianists who work with us that a piece of music had been cut and I had to run onto the stage and tell them to stop playing.
Q&A
What music do you like?
I like lots of different types of music ranging from pop to jazz.
Q&A
Describe your best ever holiday. What would your dream holiday be?
When I went to America and stayed with friends. I was in Florida and Denver and went skiing. I had a ball. My dream holiday would be anywhere hot with good------
Q&A
What is your greatest remaining ambition?
To be a good music teacher.
Q&A
If you could spend a day with a celebrity whom would you choose?
Definitely Robbie Williams.
Q&A
If you were stranded on a desert island what three things would you want with you?
Piano, mobile and radio
FAVOURITE THINGS.....
| | |
| --- | --- |
| Car | Audi |
| Film | Notting Hill |
| Comedian | Little Britain duo |
| CD | Robbie Williams `Escapology' |
| Book | 'P.S. I love you' by Cecilia Ahern |
| Actor | Ben Stiller |
| Actress | Julia Roberts |
| Drink | Tea |
Ulster Star
/2006